What to Expect: Coppin State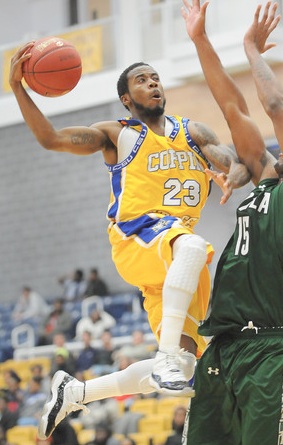 Following a convincing win over North Carolina in the ACC-Big Ten Challenge on Tuesday, the No. 1 Hoosiers return to Assembly Hall on Saturday for a meeting with Coppin State. The Eagles (1-5) are coming off a 67-51 loss to Loyola MD at home and have yet to beat a Division I opponent.
The game will be televised by the Big Ten Network.
If you're expecting Indiana to get much of a challenge on Saturday night, it may be time to readjust your expectations. Using the Pomeroy Ratings as a barometer, Coppin State is Indiana's weakest opponent on the schedule.
Their five losses to-date have come by an average of 12 points, but in their two games against major conference opponents, they fell by 14 to Southern Cal and 23 to Texas.
STYLE OF PLAY
If there's one thing you can point to with Coppin State and say they've been effective, it's forcing turnovers. The Eagles are turning their opponents over on 27.7 percent of their possessions, which was good for 11th nationally through Thursday's games. Although those turnovers aren't really leading to much offensively, they're still on Indiana's radar heading into the game.
"They start with ball pressure. They're not always in the full-court, man-to-man type of look, but they do a good job of scrambling and helping," assistant coach Kenny Johnson said Friday. "They're in the passing lanes, they're aggressive. They're overplaying, so they're forcing you into unforced turnovers at times. Other times, they're just always gonna be there. You're not gonna have any space to operate."
Beyond their effectiveness in creating turnovers, the rest of the profile for Coppin State is well below average. Offensively, they'll enter Assembly Hall with an effective field goal percentage of 37.2 percent, which is 344th out of 347 Division I teams. Nearly 43 percent of their field goal attempts are coming from behind the 3-point line, but they've been woeful from distance (23.7 percent) through six games.
Despite the obvious shortcomings on paper for Coppin State, the Hoosiers still appear focused on treating this game like any other.
"We just don't want to play to the level of our competition," freshman guard Yogi Ferrell said. "We always want to play the best that we can. We played very well against UNC, of course, but like now we're playing Coppin State, we just can't play down to their level."
PERSONNEL
Coppin State has three players averaging double figures in scoring. Freshman guard Patrick Cole is their leading scorer at 15.3 points per game, but has just 12 assists compared to 23 turnovers.
Troy Franklin (pictured), a point guard who transferred from Towson, is coming off the bench and scoring 12.8 points per game. Franklin leads the Eagles with 20 steals.
"They're a very fast-paced, aggressive basketball team," Johnson said. "We expect them to come in and pressure us and be in attack mode, and obviously look to shoot the 3 ball."
Junior forward Michael Murray is the third Eagle in double figures at 10.5 per game and he's also averaging 10.5 rebounds per game. Murray's defensive rebounding percentage (27.0) is an impressive mark.
WHAT IT COMES DOWN TO
If Indiana comes out and plays like they're capable of, this game should be over by the under 12 media timeout of the first half. Pomeroy likes the Hoosiers by 43 and Vegas didn't even put this game on the board.
As poorly as Coppin State has performed offensively, holding the Eagles to fewer than the 45 points allowed to Sam Houston State certainly seems possible.
QUICK FACTS ON COPPIN STATE
Student Enrollment: 4,000
Established: 1900
Notable basketball alumni: Larry Stewart
All tempo-free stats from KenPom.com.
(Photo credit: Baltimore Sun)
Filed to: Coppin State Eagles