The Minute After: North Carolina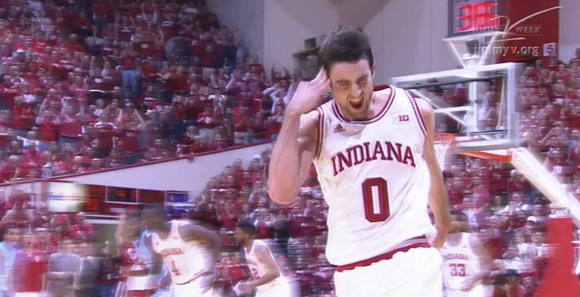 Thoughts on an 83-59 win over the Tar Heels:
I. Believe they call this a beatdown, friends. Sure, North Carolina kept it respectable in the first half. Indiana didn't get to the line much (just 6-of-7 through the first 20 minutes for a team with the highest free throw rate in the nation) and were pedestrian from beyond the arc (2-of-8). A little run to end the half  — which featured dunks from Cody Zeller, Will Sheehey and Victor Oladipo — had the Hoosiers up nine at the break.
But as the second half began, the floodgates opened, the water flowed and flowed, and Roy Williams and crew were helpless against Indiana's current. Check it: Through the first 10 minutes of the second half, the Hoosiers threw down a 22-4 run. By the 4:22 mark, they'd ballooned the lead to 32 (83-51). It was a mix of what we've come to expect from this team through seven games now: A relentless pushing of the pace for easy buckets in transition, crisp ball movement with extra passing in the halfcourt, inspired, active defense.
Now, this North Carolina program is in the midst of a rebuilding process. (It appears the next wave of serious talent won't be joining until next season.) Williams lost four players to the draft after last season. P.J. Hairston was out with injury. Butler had its way with this team just last week. Playing inside Assembly Hall has its benefits as well.
Still, you play who is in front of you at this point in the season, and tonight's performance was certainly one to build upon.
II. That lingering illness Zeller's been dealing with? A thing of the past.
He beat the Heels down the court for easy buckets time after time in this one, and generally just looked more like a National Player of the Year candidate.  (Some speculation: Zeller maybe, just maybe, liked the idea of really putting it on his brother's former team tonight, a team he flirted with committing to.) His line: 20 points, eight boards. He even added four blocks tonight — a couple of the monster variety — something that hasn't been a part of his repertoire so far this season.
This is a growing theme so far this season and certainly not a unique point of view either, but here's the truth: For as good as Zeller is and was tonight, there's little question Jordan Hulls has meant more to the Hoosiers; he's their MVP through seven game. The Bloomington native had another sensational game and continues to play with incredible confidence. When Hulls wasn't scoring — another double-digit performance (13 points) — he was feeding his teammates to the tune of eight assists. He also had seven rebounds, two steals and zero turnovers.
Victor Oladipo and Will Sheehey filled in the gaps. Oladipo did a nice job keeping his man in check most of the evening and had a strong night offensively as well — 19 points on 8-of-13 shooting. Sheehey pumped in 19 points on 8-of-12 shooting and hit a couple 3-pointers in the second half that had him going wild on the court.
III. And now, the elephant in the room: Christian Watford. There's plenty of season left to change the narrative. But he continues to be a player that is hot and cold, up and down. Watford tallied zero points, three rebounds and two turnovers in the first half. Tom Crean failed to start him in the second half. He didn't enter until the 14:41 mark. Watford seemed to force the issue immediately; his first touch was a drive off the perimeter in which he hit only the backboard. Watford did throw down a strong dunk in the second half, but it was his only two points of the night. He finished 1-of-9.
According to Rick Bozich, there were 26 NBA scouts inside Assembly Hall this evening. You wonder what sort of impressions they came away with.
Filed to: North Carolina Tar Heels