Notebook: Balance fuels Hoosiers past Tar Heels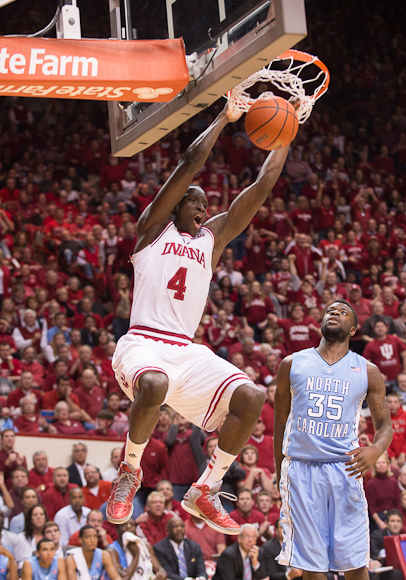 In the days leading up to North Carolina's trip to Bloomington to face No. 1 Indiana in the ACC-Big Ten Challenge, Roy Williams talked about the variety of offensive weapons on the IU roster.
Specifically, Williams mentioned that the Hoosiers possess too many scoring threats to warrant putting more than one guy on Cody Zeller with any regularity.
On Tuesday night, those words rang true as the Hoosiers (7-0) had four guys in double figures and showed their incredible balance in an 83-59 rout of the Tar Heels.
"The thing I like about them is, they really are a team," Williams said after watching his team trail by as many as 32 points. "They don't have one guy that beats you up. They beat you in so many different ways."
While Zeller was brilliant and looked more than capable of charging to the top of the heap in the national player of the year race, the contributions of Jordan Hulls, Victor Oladipo and Will Sheehey were equally important.
Hulls finished with 13 points, eight assists, seven rebounds and no turnovers. The senior guard from Bloomington now has 31 assists and only five turnovers on the season.
Oladipo and Sheehey, who were under recruited and overlooked by major programs coming out of high school, each scored 19 points.
"You look at Hulls and think, 'that's really something- five of eight, eight assists, and zero turnovers,'" Williams said. "Oladipo, man what an aggressive basketball player he is. The stat sheet says he had one block and zero steals, but I felt like he stole the ball from us ten times. His energy level for them on the offensive and defensive ends of the floor was really something. Sheehey comes off the bench and gets 19."
Hoosiers lock down defensively on McAdoo, Bullock
After North Carolina drew even at 31 on a pair of free throws by James Michael McAdoo with 4:14 remaining in the first half, Indiana turned the game with defense.
The Hoosiers exploded for a 37-9 run over the next 13:23 to put the game completely out of reach.
"It was 31-31 the last time I looked at the score in the first half and then we just had a drought and we don't put the ball in the basket the last two to three minutes in the half," Williams said. "Then we start the second half and we only make one of our first eighteen shots in the second half. Against a very good team you can't go 2-for-7 to end the half and go 1-for-18 to start the second half. I'm pretty good at math, and that's three for 25 and you just can't do that."
One key adjustment Indiana made was putting Sheehey on McAdoo, North Carolina's most talented player and leading scorer.
What Sheehey gave up in size, which was at least two inches, he made up for with making McAdoo uncomfortable for most of the night.
"Will did a phenomenal job on him. We gave up a couple boards, but Will was fighting him, was making it hard for him to make catches," Indiana coach Tom Crean said. "We knew that they were going to need to go to him to get it going."
McAdoo finished with 10 points on 4-of-15 shooting and nine rebounds.
Reggie Bullock, who came out of high school in 2010 alongside Oladipo and Sheehey and was a five-star recruit, finished with just five points on 2-of-9 shooting. He was defended primarily by Oladipo.
"James Michael and Reggie are the two guys with the most experience and one of them went scoreless in one half and the other went scoreless in the other half," Williams said. "Give credit to Indiana's defense because they really tried to focus on those two guys. For us it was it was a tough night to say the least."
Etc.
· Yogi Ferrell hasn't scored much early in his freshman campaign, but he continued to prove his value as a playmaker and facilitator on Tuesday. The Park Tudor product finished with six assists and only one turnover.
More importantly than the numbers, Ferrell and Hulls have proven they're more than capable of playing together against high level competition over the past three games.
"Well it just answers the question `can you play two little guys together?'," Oladipo said. "They're phenomenal at what they do and they feed off each other and they play well together. They've been growing and they're going to continue to keep getting better and playing for each other and playing for us too."
· The win moved Indiana to 8-5 all-time against North Carolina. The Hoosiers have now beaten five straight ranked opponents at Assembly Hall.
Quotable:
"If you like Indiana basketball, you had to enjoy tonight. And I like Indiana basketball, but not as much as I like North Carolina basketball." — Roy Williams
Filed to: Cody Zeller, Jordan Hulls, Victor Oladipo, Will Sheehey