Hoosiers show why they're No. 1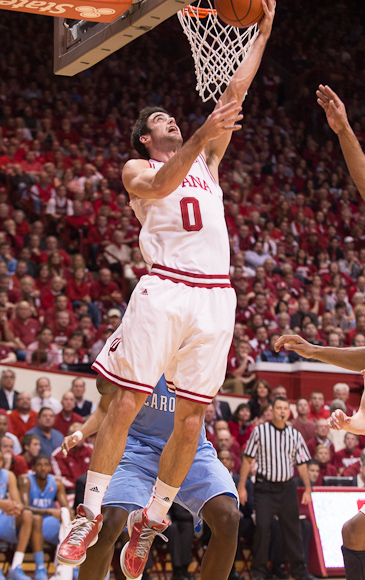 When Indiana shocked the country and beat Kentucky last December, it took a last second shot. It took squandering a double-digit lead. It took overcoming several defensive lapses.
It took, well, an upset.
Tuesday night's win against No. 14 North Carolina was, to put it simply, different. This time, the Hoosiers' first matchup against a nationally-ranked opponent didn't require any drama. It didn't have any valleys.
This time, they climbed on top, stepped on Carolina's throat, and then stomped on it — over and over again. It was a massacre with the entire nation watching, and it proved to everyone why Indiana is ranked No 1.
Indiana 83, North Carolina 59.
"It's a huge statement," junior forward Will Sheehey said afterward. "I mean, you saw the score. We played hard, we played well, we played together."
The Hoosiers (7-0) did those things last year, too, but this season has a whole different feel to it. To a certain extent, they have now been there before. There are no more surprises, there will be no more court stormings, and yet the level of play hasn't dropped off. If anything, it's gotten stronger.
Indiana wouldn't have put this Tar Heels' team in a 32-point hole last year. It would have let them climb back in the game and would have been forced to win at the end.
But this team — particularly the upperclassmen — want no part of that anymore. They've been on the bottom, they've been run over by the bigger and stronger programs. Now that they're on top, the Hoosiers want to embarrass those that did the same to them only a couple of years ago.
For guys like Sheehey, Victor Oladipo and Jordan Hulls, opportunities like Tuesday night are even more sweet. All three were under-recruited, sorely overlooked by programs like North Carolina. Watching Sheehey explode with emotion after he hit his final 3-pointer of the night tells me that being underestimated still drives him.
"[Cody] Zeller … and two other guys I never even heard of when they were in high school just kicked our rear ends tonight," admitted North Carolina coach Roy Williams, referring to Hulls and Oladipo.
He's certainly heard of them now.
The thing about this team, though, is that all of the players — even former McDonalds All-Americans like Zeller — refuse to feel entitled or comfortable. Everybody on this team seems to have a chip on their shoulder.
"We had to be the hunters, not the hunted," Zeller said. "We can't be comfortable with where we're at. We have to take every game like we're the underdog."
They approach it with the hunger of an underdog and the confidence of a No. 1 team. The second part wasn't always there last season. The first part always was, and still clearly is.
"I feel like we haven't even scratched the surface," Oladipo said, Sheehey continuously nodding his head as his teammate spoke. "I feel like we can be so much better, I feel like we can accomplish so much more."
There will be more challenges this season, more times when the Hoosiers will have to prove themselves as a top team. If they perform in each of those games like they did Tuesday night, they could very well have one magical season. That's not something I could have said last year.
This team is No. 1, and it knows it.
"We some bad boys. Whatchu wanna do?," Oladipo said.
Filed to: Victor Oladipo, Will Sheehey