The Minute After: Ball State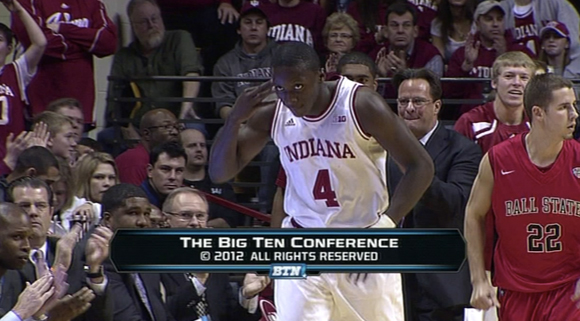 Thoughts on a 101-53 win over the Cardinals:
I. This game was knotted at 4-4 at the under-16 timeout, and it began as yet another slow start. But by the time the first half ended, the Hoosiers were up a ridiculous 50-19. Credit an offense that really started to get it going — scoring on several straight possessions and shooting 65% from the field. Credit a defense that held Ball State to two prolonged scoring droughts that totaled nearly 13 minutes.
Indiana's depth and talent just wore Ball State out on both ends of the floor tonight — a familiar refrain against non-conference opponents inside Assembly Hall this season. Once Indiana got rolling in the first half, it was pretty much curtains for the Cardinals.
Also: Qdoba!
II. Lots of Hoosiers got in the mix in this one. Will Sheehey, save for some And1 Mixtape dribbling that resulted in a turnover and drew the ire of Tom Crean, was just about perfect tonight — 8-of-9 from the field for 19 points to go along with six rebounds. Lots of mid-range goodness from No. 0. Cody Zeller was aggressive from the start, receiving the ball more out near the perimeter and using his quickness to get to the rim against Ball State's bigs. He scored 15 points in 20 minutes to go along with eight boards. Not quite sure if he's fully over his illness yet, but the energy he displayed bodes well for Tuesday's showdown with North Carolina.
Maurice Creek looked good in a spot-up shooting roll this evening; he hit two 3-pointers and totaled nine points for the game. Jordan Hulls did Jordan Hulls things (17 points on 7-of-10 shooting, three assists). Victor Oladipo continues to show confidence in his outside shot. The junior hit a jumper and a 3-pointer tonight en route to 13 points.
Christian Watford sported a double-double (11 points, 10 boards).
III. Despite the huge lead in the second half, Crean was his usual self in this one, continually telling his team to push the pace and not let up. He also had the Hoosiers practicing a full-court press in this one during a stretch after halftime as well — showing once again he'll use live game action to try out some different things in these games where Indiana is outclassing the competition.
IV. Some numbers: Indiana rebounded almost half its misses (48.6 OR%) and snatched up nearly three-fourths of Ball State's (73.0 DR%). It scored 1.29 points per possession. Not as many free throws in this one: The Hoosiers are leading the country in free throw rate (FGA/FTA) at 63.9, but totaled a free throw rate of 48.3 tonight (18-of-24). The Hoosiers also had nine steals and four blocks tonight, which are both season highs.
V. Nice game from Majok Majok. On an otherwise forgettable night for the Cardinals, the junior college transfer flashed an array of impressive moves. He's got quick feet for a big man and it propelled him to a team-high 18 points. He's started well for the team through their first four games and seems on pace to have a nice little MAC season for Ball State.
Filed to: Ball State Cardinals