Notebook: Hulls, Sheehey shine against Cardinals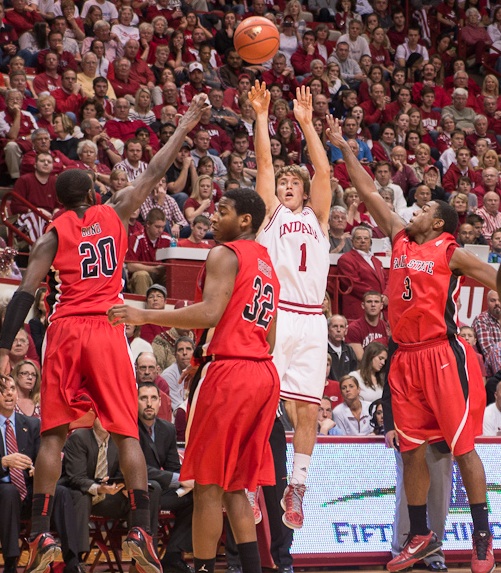 Jordan Hulls pulled up and knocked down a 3. Then he found Will Sheehey for a pull-up jumper. Then on an alley-oop, and then another 3-pointer for Hulls.
It looked so easy.
Hulls and Sheehey were the main contributors in a Hoosiers' offensive clinic against Ball State on Sunday evening. The duo combined for 36 points on a remarkable 15-of-19 shooting in Indiana's 101-53 win.
Hulls and Sheehey also scored the Hoosiers' final 15 points of the first half.
Hulls' play wasn't all that surprising given his clutch performances in two games last week in Brooklyn. But he was particularly aggressive on Sunday, knocking down 7-of-10 shots and 3-of-6 3-pointers for 17 points.
"I'm just trying to be more aggressive and do whatever the team needs me to do," Hulls said afterward. "I was just waiting to get in the flow. I just wasn't trying to force anything. I just let it come to me."
Sheehey, though, certainly had his struggles at the Barclays Center. The junior forward was just 4-of-10 with three turnovers in the two games in Brooklyn, including a 1-of-6 performance against Georgia.
But Sheehey was dominant against Ball State, scoring a game and season-high 19 points on a nearly flawless 8-of-9 shooting. He also had six rebounds in 19 minutes.
Sheehey described his success simply.
"Took open shots, teammates found me. That's it," he said.
But associate head coach Tim Buckley examined Sheehey's play a bit more deeply.
"Where it starts with our guys is where they feel like they haven't played well," Buckley said. "And Will probably didn't shoot it as well as he would have liked when we played in Brooklyn. He got in the gym and worked, he got shots up. That's the only thing we know is work.
"I don't think it was a surprise or anything new, that's how he plays. He just got a little off track when we played in Brooklyn, and he came back and worked himself out of it."
The only flaw in Sheehey's night came when he made one too many crossovers and lost the ball out of bounds in the second half. Sheehey turned, dropped his head, and started to walk down the court. Indiana coach Tom Crean screamed at Sheehey from the bench and promptly removed him from the game. But Sheehey reentered moments later.
As for what was said: "I'm not answering that," he said.
Running up the score?
Late in the second half of Sunday's game, with the Hoosiers up by 40, Indiana continued to use a full-court press. When asked after the game if a coach needs to explain to his opponent that there was no malentent after the game, Buckley shot the idea down.
"I don't think that needs to be said, that's how we play," Buckley said. "It's very difficult to back guys off when they're trying to get minutes and they wanna play as much as the starters are playing. I think that goes without saying."
Etc.
· Christian Watford quietly put up a double-double on Sunday, scoring 11 points and grabbing 10 rebounds.
· Cody Zeller scored 15 points on 5-of-7 shooting and pulled down eight rebounds, looking much more like his usual self then he did last week in Brooklyn.
· Maurice Creek scored nine points in 14 minutes off the bench, including two big 3-pointers and a beautiful drive to the rim. He didn't look at all hesitant, something that has been a bit of an issue for him at times this season.
"I feel comfortable as time goes on," Creek said. "I just want to get a feel of the game again, so every game is going to be different."
· Austin Etherington got a steal and converted a three-point play to push the Hoosiers over the 100-point mark. The crowd erupted when Etherington scored because it meant free Qdoba food for 100 Indiana fans with a game ticket.
"His eyes lit up when he saw it was 98," Sheehey joked. "He wanted to get that burrito. He's probably at Qdoba right now."
Filed to: Jordan Hulls, Will Sheehey