Notebook: Hoosiers overcome slow start to beat Georgia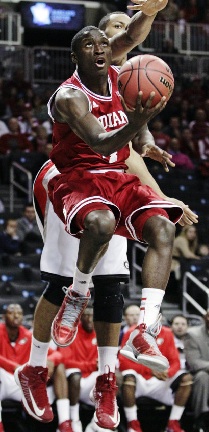 BROOKLYN — Perhaps it was the travel or maybe it was playing in an NBA arena in the nation's largest city, but Indiana got off to a very slow start on Monday evening at the Barclays Center against Georgia in the Legends Classic. Senior guard Jordan Hulls hit a 3-pointer to start the game, but the Hoosiers missed their next eleven from beyond the arc. IU was 8-of-25 (32 percent) from the field after 20 minutes.
Shot selection was questionable. Ball movement was largely nonexistent. Important players like Cody Zeller got in early foul trouble. But fortunately for Indiana, Georgia was just as bad. The Bulldogs were only 9-of-26 (34.6 percent), allowing the Hoosiers to stay in the game and trail 30-29 at the midway mark.
"We just missed some shots and had different lineups," Crean said following IU's 66-53 win. "The thing that hurt us is we had eight turnovers in the first half and could never get into a rhythm. We never got the pace going the way we needed it to go. Georgia had a lot to do with that. The fact that we were sitting key players for long stretches of time had something to do with that.
"We just missed shots that we'd normally make. There weren't many we'd have back, maybe a couple of them. Other than that, that's going to happen."
Hulls and Oladipo provide second half spark
There's no doubt about it: Indiana took control in the second half thanks to Hulls. With 10:10 remaining in the game and IU leading 42-40, Hulls found Christian Watford open for a 3-pointer. He then sparked an 8-0 run – two 3-pointers and an assist to Victor Oladipo — that allowed the Hoosiers to run away with the contest.
"I thought we had a lot of energy sources tonight. No question tonight Jordan Hulls was a huge part of that," Crean said. "With all the NBA people here tonight, that's an NBA guard… That young man is a huge winner who has a lot of skills. A lot of skills. And he improves constantly. He brought a ton of energy."
Added Oladipo: "It's huge. He's a senior and a pro. He's a pro. Without him, we can't win. He knows he has to hit shots, and he hits them. That's why he's so special."
Like Hulls, Oladipo was a main contributor in terms of pure energy. In the second half he attacked the rim, hit the glass hard and defended well. The primarily pro-IU crowd also got much louder when he threw down a couple big dunks late in the game.
"Victor Oladipo's energy was uncommon," Crean said. "When he gets it going like that – anticipating and attacking and reading the game and reading the defense – it's huge."
Zeller limited to just six points
Sure, players like UCLA's Shabazz Muhammad or Georgetown's Otto Porter are potential pros, but the multitude of NBA scouts at Barclays were there to see Zeller.
Unfortunately, it wasn't the performance they were expecting.
Zeller finished with just six points on 2-of-4 shooting from the field. The majority of his issues stemmed from early foul trouble, but Zeller is still recovering from being sick – he missed a couple days of practice, according to Crean – which didn't help.
His coach, however, doesn't expect a repeat performance tomorrow night against Georgetown.
"I expect him to be Cody Zeller," Crean said. "There are a couple things we can correct in a short period of time, but you got to remember: you can go to him or you can play through him. Bottom line is they always got to account for him. They got to account for him with more than one person. He'll be fine."
Crean shares a word with Bob Knight
To the surprise of many when it was initially announced, former IU coach Bob Knight was the color analyst for Monday's game against Georgia. After the game he and Crean shared a moment, and here's how the exchange went, according to Crean.
"I just said hello and shook coach Knight's hand," Crean said. "He said 'good luck.' I just wanted to make sure I did that. He's working, we're working. I just wanted to make sure that when they were walking off I took a chance to shake his hand. That's about it."
But what does it mean to have him at the game?
"I haven't thought a lot about it," Crean said. "When I get a chance to sit there and listen to the broadcast, I'm looking forward to hearing what he has to say about the team. I'll learn just like I do when I listen to other people I respect in the way that they understand basketball. I'm looking forward to that."
(Photo credit: Associated Press)
Filed to: Bob Knight, Jordan Hulls, Tom Crean, Victor Oladipo