Legends Classic Notebook: Muhammad cleared by NCAA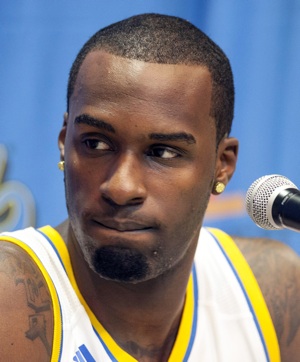 The national profile of this week's Legends Classic games at the Barclays Center in Brooklyn was raised on Friday when UCLA freshman guard Shabazz Muhammad won an appeal from the NCAA and became eligible immediately.
The Bruins, ranked No. 13 in the latest Associated Press poll, are 3-0 without Muhammad and will play Georgetown in the second game on Monday evening.
According to a statement from the NCAA, Muhammad must sit out 10 percent of the season, which equals the three games he's already missed, and repay approximately $1,600 in impermissible benefits received.
The addition of Muhammad, the No. 2 player nationally in the class of 2012, gives the Bruins an elite scoring threat in the backcourt to pair with freshman guard Kyle Anderson.
"I am excited to be able to play for UCLA starting next Monday," Muhammad said in a release issued by the school. "My family and friends were very supportive of me throughout this process and I couldn't have gone through this without them."
Georgetown's Porter a game-time decision, Smith-Rivera shining
After leaving Georgetown's season-opening 61-55 win over Duquesne on Nov. 11 with a head injury, sophomore forward Otto Porter hasn't played for the Hoyas and his status for Monday's game with UCLA is still up in the air.
On a conference call discussing the Legends Classic on Friday, Georgetown coach John Thompson III said that he "hopes to have" Porter available to play.
A preseason all-Big East selection, Porter averaged 9.7 points and a team-high 6.8 rebounds as a freshman.
The Hoyas have started 2-0 and are being led in scoring by freshman D'Vauntes Smith-Rivera, an Indianapolis native who finished his high school career at Oak Hill Academy.
"He's got a strong, mature body. And he has just a very good feel for the game," Thompson III said of Smith-Rivera. "The game comes easy to him. He understands what we're trying to do. Some guards can just score and some guards can just set others up and I think he has a gift, a nice combination of both where he can get his own but he also makes his teammates better."
Georgia's Fox impressed with Ferrell
Much of the national attention Indiana is receiving centers around the presence of Cody Zeller, but freshman point guard Yogi Ferrell has played well through his first three collegiate games.
The Park Tudor product, who was asked to score frequently in high school, has shifted to a playmaker role in Bloomington and is thriving. Ferrell is averaging 5.7 points, 5.7 assists and 3.3 rebounds in 23.3 minutes per game.
Most importantly for the Hoosiers, Ferrell has just six turnovers to go along with his 17 assists.
"I think the thing that is impressive about him is that, I don't have their stats in front of me, but I think he's near the 3-to-1 assist to turnover ratio," Fox said on Friday. "He is quick and I think he's made pretty good decisions. It's a transition [to the college game], but it's one that he seems to be, early on, making pretty smoothly."
Indiana mum on appeals for Mosquera-Perea, Jurkin
UCLA coach Ben Howland acknowledged on Friday morning that school officials and the NCAA would have a conference call on the eligibility status of Muhammad, which prompted questions on the status of appeals for IU freshmen Hanner Mosquera-Perea and Peter Jurkin.
Both freshman were suspended for nine games back on Nov. 6 and IU said it would appeal the suspensions, but all has been quiet as the Hoosiers have gone 3-0 without Mosquera-Perea and Peter Jurkin.
Associate head coach Tim Buckley, who was filling in for Tom Crean on Friday's conference call to discuss the Legends Classic, was unable to provide any details on that NCAA appeals status for both players.
"I would not be at liberty to express any of that information nor I am I privy to it," Buckley said. "That would have to come through Coach [Crean]."
(Photo credit: Associated Press)
Filed to: Otto Porter, Shabazz Muhammad, Yogi Ferrell