Notebook: Hulls reaches 1,000 point plateau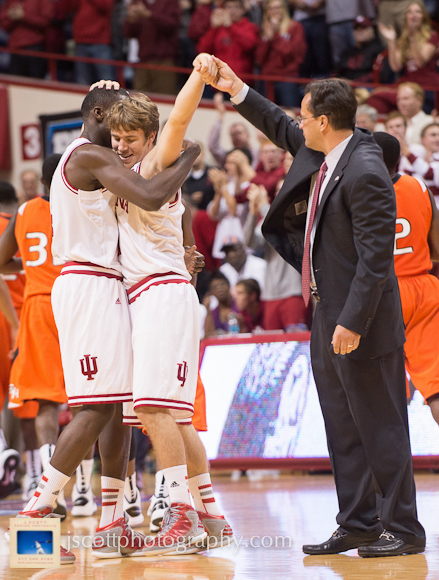 It seemed only fitting that Jordan Hulls would achieve a scoring milestone by knocking down a 3-pointer. It's Hulls' signature shot, after all, and a shot he's been able to focus on even more this season with the addition of Yogi Ferrell.
In Thursday night's 99-45 win against Sam Houston State, Hulls knocked down an open 3 from the top of the key to record his 1,000th-point, becoming the 44th player in Indiana history to accomplish the feat. After Hulls made the shot, Indiana coach Tom Crean called a timeout, walked out onto the court, and held Hulls' hand in the air as the Bloomington native received a standing ovation.
Hulls was confused.
"I had no idea why I was getting my hand raised because I had just shot a terrible shot," Hulls said of a deep 3 he missed earlier. "I'm not really into my personal accolades as long as the team wins, but it's a pretty cool club to be a part of."
Even Crean wasn't entirely aware that Hulls only needed three more points to reach 1,000.
"I knew he was close, and I just completely lost track of where he was at," Crean said. "He thought I was taking him out because he took a long 3. I love when he takes those 3's. We need him to do that. I'm really, really incredibly proud that he got that. It's an honor to coach him. He has grown so much as a player. He just keeps getting better and better."
Hulls finished with 10 points on 3-of-7 shooting, including 3-of-6 from beyond the arc. Hulls also had five rebounds, five assists and no turnovers in 21 minutes. He becomes the second player on the current Indiana roster to hit the 1,000-point mark, joining senior forward Christian Watford.
"That kid epitomizes what we're doing," Crean said. "He epitomizes Indiana basketball in so many ways. I think people from the past can identify with him and the Hulls family, people in the future can look at Jordan Hulls and see what can happen when you play in this program, but most importantly, he impacts our present."
Watford responds to coming off bench
When the Indiana starting lineup was announced prior to Thursday night's game, a familiar name was missing. Watford, who had started 97 of the first 98 games in his Indiana career, began the game on the bench as Will Sheehey got the call.
Watford had taken some ill-advised shots in Monday night's game against North Dakota State, and he seemed to lack energy. He said he had some extra motivation coming off the bench on Thursday.
"Yeah it was. But that was coach Crean's decision, and I'm for this team no matter who is playing," Watford said. "I'm bigger than that. I want this team to be successful way more than that. … It was odd, but just gotta go with it."
If Crean was trying to send a message to his veteran forward, it certainly seemed to be well received. Watford looked like a completely different player against the Wildkats, scoring a game-high 23 points on 5-of-8 shooting and pulling down six rebounds. While the Hoosiers (3-0) struggled from the free-throw line as a team (the shot 30-of-44), Watford was a perfect 10-of-10 from there.
According to Crean, Watford also lead the team with 13 deflections.
"We just wanted to make a little energy change," Crean said. "He played with as much energy as anybody on the court tonight. It showed up in his numbers. I have to think he feels good about that."
While Watford will likely be re-inserted into the starting lineup when the Hoosiers play Georgia on Monday, Sheehey made the most of his opportunity. The junior had a season-high 18 points and five rebounds in 26 minutes.
"I think Will's a starter," Crean said. "I look at Will as a starter whether he's starting or not."
Etc.
· Zeller still sick: Sophomore center Cody Zeller played for the Hoosiers on Thursday night, but Crean said after the game that Zeller has been sick all week. Crean said Zeller was in bed resting for the last few days, and didn't rejoin the team until Thursday afternoon. He had 13 points, seven rebounds and four assists in 22 minutes.
· Sharing the wealth: Indiana had 24 assists on its 30 field goals against Sam Houston State. Hulls and Yogi Ferrell combined for 12 assists and zero turnovers.
· Just missed 100: The Hoosiers came up one point short of 100 on Thursday, much to the dismay of fans who had lined up outside Qdoba in hopes of scoring a free meal if Indiana got to the century mark. When asked about it after the game, Will Sheehey didn't seem to have too much sympathy.
"I'm more of a Chipotle guy myself," Sheehey joked.
· Notes: Hulls is now tied for sixth with Kyle Hornsby on Indiana's all-time list for made 3s with 180 3-pointers. … According to ESPN Stats Info, Indiana has won each of its first three games by at least 25 points for the first time since the 1979-80 season.
· Quote to note: "He's a first-class guy and one heck of a coach." — Sam Houston State coach Jason Hooten on Crean
Filed to: Christian Watford, Jordan Hulls, Tom Crean, Will Sheehey