IU is No. 1 again, with or without Knight's approval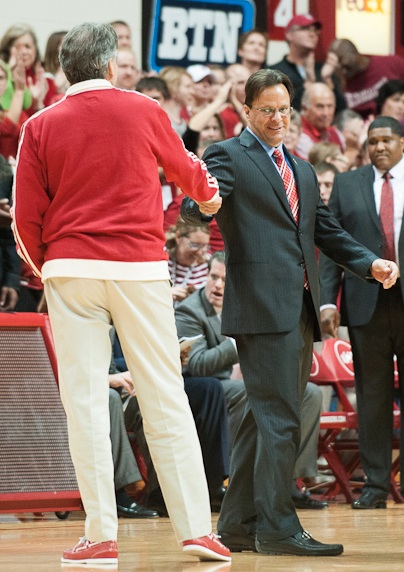 When Tom Crean arrived in Bloomington in April of 2008, his to-do list grew almost immediately after he was announced as the Indiana University basketball men's basketball coach.
The rubble left in the aftermath of the Kelvin Sampson era, which can be best characterized as a program-crippling debacle, was larger than even Crean could have imagined.
But unlike the previous two coaches who sat in his position after Bob Knight's dismissal — Mike Davis and Sampson — Crean spoke about Indiana's storied tradition with words that actually had teeth. His emphasis on bringing back former players and coaches and reuniting a fractured fanbase was a big part of his plan to rebuild Indiana from day one.
As the long road to rebuilding Indiana inched along, it became clear that Crean's words were not hollow.
Former players who had essentially disassociated themselves with the program under Sampson's leadership returned and embraced what Crean was doing to put the pieces back together and build the Hoosiers into a national contender. Historic teams, like the 1987 championship team, Knight's third at IU, reunited at Assembly Hall to celebrate with fans. Calbert Cheaney, the all-time leading scorer in the Big Ten and a Naismith and Wooden Award winner, joined the staff.
These are just a few of the countless examples of embracing tradition that have transpired under Crean's watch that were unthinkable under previous staffs and administrations.
What also transpired was Crean and Athletics Director Fred Glass making it clear, publicly, that Knight was welcome to return to Bloomington at any time. When Knight was selected for the IU Athletics Hall of Fame in 2009, Glass penned a letter requesting he attend the ceremony. Crean was also clearly on board with the decision to honor Knight.
"I think it will be fantastic to be able to walk into that building and have people walk into that building and know that their coach is honored with all of the other greats at Indiana," Crean said in Aug. of 2009. "Because certainly it's one thing to have him in the Naismith Hall of Fame, but with everything he did at Indiana, the shelf's not full yet. Let's get the shelf full and get him in there."
Knight decided against attending the ceremony, instead opting to send a letter to Glass which was read by his longtime friend and retired journalist, Bob Hammel. It was clear from that the wounds for Knight were still deep.
"I just have too much negative feeling toward some people and the things they did or did not do during my last few years and who had no understanding of either athletics or honesty," he wrote.
As timed moved along, Knight's stance on Indiana hasn't appeared to shift much, if at all. As recently as September, when he was inducted into Ohio State's Hall of Fame for lifetime achievements, a ceremony he attended, Knight was asked if he would accept similar recognition in Bloomington.
"Probably not," he told a group of assembled reporters.
Less than a month after that appearance at Ohio State, it was announced that Knight would sell his championship rings and Olympic gold medal to help put his grandchildren through college.
So as word arrived on Wednesday afternoon that Knight will help call Monday's Indiana game against Georgia in the Legends Classic at the Barclays Center on ESPNU, it's fair to wonder if the news is significant in terms of Knight's stance with Indiana softening.
For the first time in his career as a college basketball analyst for ESPN, it appears Knight will discuss the program he once oversaw, which is now back at the forefront of the sport.
"I think it's great coach Knight will be calling the game," Glass told Inside the Hall's Justin Albers on Friday. "I wouldn't read too much into it one way or another in terms of him reconnecting with IU. If that happens, it'll be on his timetable. He knows he's welcome, but we won't push it."
It's clear that Indiana is still willing to embrace Knight should he choose to allow the program to do so.
But this much is also clear. Indiana is No. 1 again, with or without Knight.
Filed to: Bob Knight, Fred Glass, Legends Classic, Tom Crean