What To Expect: Sam Houston State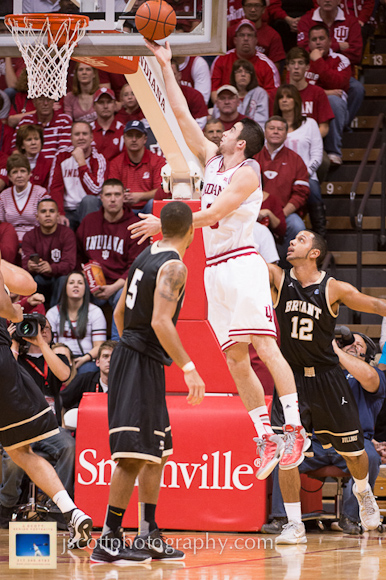 Following their 87-61 defeat of North Dakota State on Monday, the No. 1 Hoosiers will be back in action against Sam Houston State at 7 p.m. Thursday night at Assembly Hall. The game is part of the Progressive Legends Classic. The Bearkats are 1-1 this season, splitting games with Arkansas (L 68-73) and Hardin-Simmons (W 82-31).
The game will be televised on the Big Ten Network and, as always, it will be broadcast on the IU Radio Network.
While the play hasn't always been pretty, the top-ranked Hoosiers have cruised through their first two regular season games. On paper, Sam Houston State is comparable to both of Indiana's first two opponents, though the Bearkats do pose a threatening inside-out duo in Darius Gatson and Michael Holyfield.
Gatson, a 5-foot-11 senior guard, is averaging a team-high 14.5 points per game through the first two, including a 20-point performance against Arkansas. He averaged 6.7 points and 4.5 assists for the Bearkats a season ago.
"Darius Gatson really pops out on film when you watch him," said Indiana assistant coach Kenny Johnson. "You can tell a floor general when you see one and he makes that team go."
Holyfield, a 6-foot-11, 255-pound sophomore center, is averaging 5.5 points and nine rebounds through the first two games. He could be especially dangerous to the Hoosiers' given their continued lack of frontcourt depth early in the season. Holyfield will be the biggest guy Indiana has played against so far.
"He is very good. He poses challenges with his girth and his strength," Johnson said. "He runs the floor a lot better than you may think he would. I know he made strides last season when they had some injuries. We've been watching him on film and he's a great screener, he contests shots and he did a great job of rebounding the other night. So he's going to be a challenge just making sure we always keep a body on him."
Learning their roles
Thursday night's game will serve as the last "tuneup" for the Hoosiers before they head to continue play in the Legends Classic next Monday at the Barclays Center in Brooklyn. Before then, the Indiana players will continue to try to learn and get used to their individual roles.
So far, Indiana coach Tom Crean has toyed with a number of different rotations. Some guys — such as Remy Abell — have thrived. Others have struggled a little bit.
When Will Sheehey and Victor Oladipo met with the media on Wednesday evening, roles and playing time were discussed at length.
"Everyone has brought a level of energy to the game," Sheehey said. "Some guys get angry about not playing this amount of time, but I feel like everyone that has come in has brought a certain amount of energy."
Due to adding new pieces like Yogi Ferrell and Jeremy Hollowell — and because of early-season suspensions to Hanner Mosquera-Perea and Peter Jurkin and an injury to Derek Elston — it has been difficult for the Hoosiers to establish firm roles at this point. Sheehey and Oladipo said that is something that continues to develop.
"You have to know your role," Sheehey said. "Everyone should know what their role is. You do what you do well, and that is what you bring to the table. You can't do things that you don't do well because it shows up on the film."
What it comes down to
The Hoosiers could potentially run into trouble against Sam Houston State only if Cody Zeller gets in foul trouble. While Holyfield has the body to make that happen, he's still not an established offensive player at this point in his career. His focus will likely be on keeping Zeller under wraps on the other end of the floor.
The Bearkats do have a number of outside shooters, though, so Indiana's perimeter defense will have to continue to improve.
Editor's Note: You can read a Q & A with Sam Houston State coach Jason Hooten in the forum.
Filed to: Sam Houston State Bearkats