Q & A: Season preview with Clark Kellogg of CBS Sports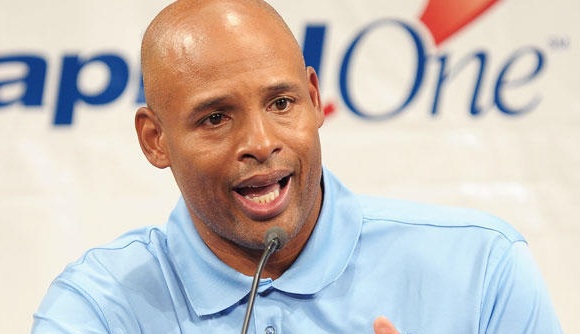 Inside the Hall had the opportunity to speak with CBS Sports lead college basketball analyst Clark Kellogg on Wednesday afternoon to preview the upcoming season with a heavy emphasis on the Hoosiers.
Kellogg is touring on behalf of the Capital One Cup, which awards a combined $400,000 annually to the best men's and best women's Division I athletics programs in the country for excellence in on-field performance.
Here's our Q & A with Kellogg, who is entering his 19th season with CBS:
The landscape this year, the preseason polls all have Indiana at or near the top, how do you see Indiana fitting in nationally to begin the season?
"It's clearly a legitimate spot for them anywhere in the top two in my mind. And I base it on what you know about returning players. Obviously they have a nice recruiting class, but you really don't know about freshman until they step foot on campus. So when I evaluate team going into the next season, I look at what I know about them, returning players and what they've done at the college level. And clearly you can make the case for Indiana and Louisville being the two top teams in that regard. Talent, experience, depth, versatility, they've got all of those elements, so I think they're a legitimate team and I've had a chance to see them practice.
"I saw them practice about two weeks ago or so. And they are very impressive. They've got versatility, they've got shooters, they've got size, they've got perhaps the player of the year in Cody Zeller. I think Yogi Ferrell their point guard is a guy who is ready to play as a freshman and contribute and impact winning. He's got a college body, he's got a college motor. They've got all of the ingredients. When you talk about championship ingredients, they've got what it takes to make a run at it."
The Big Ten has been touted as the top conference in the country, do you agree with that?
"I can see why the projection would be there. Clearly when you consider, and you don't even have to look at the polls, but you would look at the quality of the teams. Indiana, Michigan, Michigan State, Ohio State. Wisconsin is always solid. I just rattled off five teams and I think they're all ranked. But then you go to an improving Iowa, you go through Minnesota, you go to a Northwestern. I think Penn State has a really terrific player in Tim Frazier. I don't know what else they have around him, but he's good enough to beat some teams by himself the way he plays. You talk about that kind of strength at the top and the quality and improvement in the middle and what's in the bottom third, to me on paper it looks like its got a chance to be the toughest conference and the best conference top to bottom. We'll see how it plays out."
What do you see in terms of Cody Zeller's chances at national player of the year and from seeing him practice, what looks to have changed the most with him from a season ago?
"Well the first thing I noticed was that his body is improved and it wasn't bad last year. But he added some additional muscle and he's ripped up and strong. He's shooting the ball facing a little bit more and confidently and assertively. Those are the two things I kind of noticed in practice. I love his demeanor.
"As far as player of the year, clearly it helps when you start on everybody's mind and on everybody's list. That gives you a chance. But then you've got to produce and validate. He'll have an opportunity to do that in a terrific league against high level competition on a regular basis. The non-conference schedule is challenging, so he'll have every opportunity to be right there in people's minds and I've got a good, strong feeling that barring injury, he'll produce at a high level."
You had Indiana and Kentucky in the NCAA Tournament last year, looking back at that game, not many teams put 90 points on Kentucky, but obviously Indiana had trouble stopping them. Do you see the defense as the key thing for Indiana being able to advance farther in the tournament?
"Well clearly it's an area of improvement, but I don't know if they have to become great defensively. I just think they need to improve because they're so good offensively. You play to your strengths. Defense and rebounding is critical. Everybody knows that you've to do those things to win consistently at a high level. You can't win a championship if you don't do those things at least adequately, so I think they need make some strides there, but I don't think they have to become a juggernaut defensively. We'll see how it plays out.
"Incremental improvement in that area, controlling the ball at the point of attack tends to help your defense in multiple ways if you can keep people out of the paint. It usually puts you in better rebounding position and you can challenge shots better and you don't give up offensive rebounds. If they can handle that aspect, they could improve two, three or four percentage points in field goal defense and that would be enough, based on their offensive firepower, I think, to put them right in the national championship mix."
A lot of people pointing to this season as maybe being the turning point for Indiana, but not many people saw last season coming. From your perspective, were you surprised at how good Indiana was last year?
"Maybe mildly so. I had no doubt that they would get back to this level. I didn't really put a timetable on it just knowing how Tom Crean handles his business as a coach and all aspects of running a program. It is Indiana, there is great tradition and history there. Tremendous, tremendous support. So it wasn't a matter of if they would get back to this level, it was just a matter of when. So I had no real timetable.
"Once you saw them play and they got better and gained confidence, you knew that they were going to be a team that's back in the upper echelon. They shoot it well, they share the ball, they've got multiple scorers. They've got those ingredients and Indiana's a place that will always attract those kind of players especially now that they're back looking to compete not just for a Big Ten title, but perhaps even a national title."
You mentioned Zeller and Ferrell as two players who stood out when you had a chance to watch practice, was there anybody else that stood out or who looks like they could be a key this year?
"They've got a number of guys, but I was impressed with the other freshman, Jeremy Hollowell. I thought he looked good in the practice I saw and will be able to contribute. He's a versatile wing player that can do a lot of things. It's great to see Maurice Creek back out there. Obviously his legs have gone through an awful lot of trauma and yet he's out there still competing and able to be upright and go through practice. So that was really a thrill for me. Victor Oladipo is a guy who is athletic and just continues to work at getting better. [Will] Sheehey, in the words of the coaches, probably has been the most outstanding player in practice up until that point in terms of the improvement that he had made. There's not much weakness in their armor just looking at what they could potentially be because of those ingredients. And then Jordan Hulls is a terrific shooter. I was really impressed with their whole unit, quite honestly."
When does CBS Sports get started this season and what's the schedule look like?
"We kick off Dec. 1 with Baylor at Kentucky and then it's pretty much every weekend after that. But our first game will be Baylor at Kentucky so I'm looking forward to that. Two outstanding teams, Rupp Arena is always a treat to go to. There will be an awful lot of talent there on the floor between the kids from Kentucky and Baylor has a couple of outstanding players like Pierre Jackson, the point guard and [Isaiah] Austin the young freshman. Cory Jefferson is a big kid that is going to have a chance to play quite a bit now with room on the front line. And then you talk about the Kentucky freshman, they've got plenty of talent. I'm looking forward to it, can't wait. Two weeks away."
Filed to: Clark Kellogg