Notebook: Abell stays perfect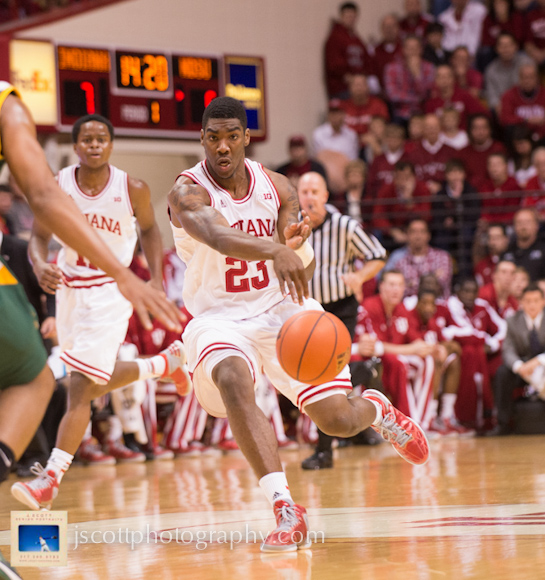 The No. 1 Hoosiers seemed to lack energy early in Monday night's game against North Dakota State. They were out of position at times on defense, and they too often settled for contested shots.
But in the second half, that energy level picked up. Indiana was flying around and making hustle plays, finally giving the large Assembly Hall crowd a reason to cheer. A primary reason for the change was sophomore guard Remy Abell.
Abell was impressive in the Hoosiers' 87-61 victory, continuing to make a case that he deserves significant minutes on a deep Indiana team. He scored 14 points on a perfect 5-of-5 shooting — including 3-of-3 from beyond the arc — and pulled down five rebounds in only 17 minutes. Abell has yet to miss a shot from the field this season as was 2-of-2 and scored 12 points in Friday's season opener.
"He's been doing that all summer. It doesn't surprise me," fellow sophomore Cody Zeller said. "He's made a lot of improvements. That's big for us."
At one point in the second half when he had just gone on his own 8-0 run, Abell made a fist-pump gesture as he looked into the crowd.
"This place is always crazy, full of energy," Abell said, smiling. "I just wanted to help it out. I just wanted to make it more. Why not?"
Indiana coach Tom Crean said Abell has made considerable improvements in his game since the end of last season. The Louisville, Ky. native averaged three points per game during his freshman campaign.
"When he went home [last summer], he worked with his old high school coach, and when he came back in June, he was tremendous," Crean said. "He did a pretty good job with the opportunities that he had last year, but he's earned the right. There's a lot of room for improvement. Tonight, [the scoring] was because his defense was going."
Watford, Ferrell have off-nights
In Friday night's season opener, Christian Watford was the story of the game. The senior forward pulled down a career-high 15 rebounds and added 15 points. Monday night's game was a different story.
Watford had just six points on 2-of-6 shooting in 20 minutes, leading Crean to talk about something that has become all-too-familiar with Watford.
"Christian's biggest thing is consistency. I don't think that's any news flash," Crean said. "He's got to be consistent with what he does, and tonight wasn't one of those nights. The energy wasn't where it needed to be and, you know what, we just move on. He'll bounce back. It is what it is."
Watford had a couple decent looks against the Bison, but he also forced several highly-contested shots. He is just 5-of-15 from the field in the first two games.
Freshman Yogi Ferrell also struggled offensively against North Dakota State, scoring just four points on 1-of-5 shooting. Ferrell missed all three of his 3-point attempts, each of which was uncontested. He also turned the ball over four times while dishing out three assists.
Crean, though, wasn't as disappointed in his young guard.
"Yogi didn't have a great offensive night by any stretch, but you never could have been able to tell it by the way that he defended," Crean said. "That's a mature young man. Those are the kind of steps you gotta have with you teams. He just kept guarding and guarding and guarding."
Etc.
· Crean said after the game that Zeller was sick on Monday, but you wouldn't have known it from the stat line. Zeller finished with a game-high 22 points on 8-of-12 shooting and nine rebounds.
"There's probably other times that he doesn't feel well and I never hear about it," Crean said. "When he mentions that he's not feeling well to the doctors and the trainers, he probably should have stayed home in bed. He's just got that kind of toughness level. And he didn't have a great defensive game and he knows that, but he was hard to deal with on the offensive end."
· Victor Oladipo wasn't one of four Hoosiers to score in double figures, but he affected the game in a number of ways. Oladipo finished with seven points, eight rebounds, five assists and four steals, and he was one of the few Indiana players to play with energy from the beginning.
· Crean has mentioned on several occasions that he feels the Hoosiers have more than five starters. After Monday's game, he said he thought the team has "seven guys that could start with room to grow in that area."
"Without a doubt I'd put Hanner [Mosquera-Perea] in that group, and I would put Jeremy [Hollowell] knocking on that door," Crean said.
Hollowell had 14 points on 4-of-8 shooting in 19 minutes against the Bison. Mosquera-Perea continues to sit out due to suspension.
· Senior guard Jordan Hulls had 11 points, including three 3-pointers. He also attempted his first two 2-pointers of the season.
Quote to note
"There's conventional, there's unconventional, and then there's what we did tonight. We just played. It didn't become about matchups as much as it became about putting guys out there and just saying, 'Let's go.'"
— Crean on Indiana's 87-61 win against North Dakota State
Filed to: Cody Zeller, Jeremy Hollowell, Remy Abell, Tom Crean