What to Expect: North Dakota State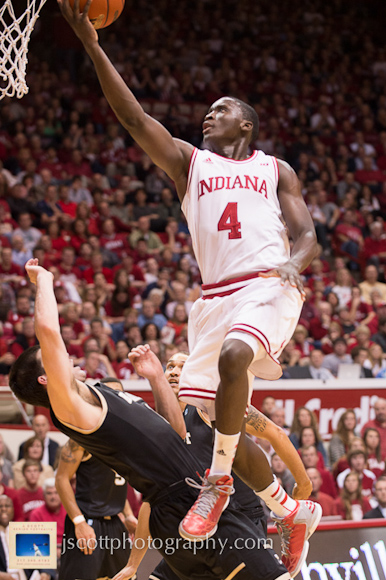 After a dominating 97-54 victory against Bryant in its season opener, No. 1 Indiana will host North Dakota State of the Summit League at 7 p.m. Monday night at Assembly Hall. The game is part of the Progressive Legends Classic. The Bison won their season opener and Valley City State, 93-47, on Friday.
The game will not be televised, but will be available to watch on BTN.com for a fee. As always, the IU Radio Network will broadcast the game.
The Hoosiers faced little resistance against Bryant on Friday night, but North Dakota State will provide a stiffer early-season test. The Bison return their top five scorers from last year's 17-14 club, and they were picked to finish second in the Summit League by the league's coaches, SIDs and media. They played in the College Basketball Invitational (CBI) postseason tournament last season.
North Dakota State's regular rotation last season consisted of six sophomores and two freshmen, so their youth held them down in some areas. The Bison struggled with turnovers at times, and they finished near the bottom of the league in rebounding. Those are weaknesses that could play into Indiana's hands considering its size and athleticism.
The Bison have much more interior depth than Bryant, which could potentially create a problem for the Hoosiers. North Dakota State has five players on its roster that are 6-foot-7 or taller, including the 6-foot-8, 240-pound Marshall Bjorklund. Bjorklund averaged 11.6 points and 5.9 rebounds per game last season.
Indiana will be without Hanner Mosquera-Perea (suspension), Peter Jurkin (suspension) and Derek Elston (knee injury), so it will be important for Cody Zeller to stay out of foul trouble.
The Bison are led by junior guard Taylor Braun, who had 19 points and eight rebounds in the season opener. At 6-foot-7, Braun is capable of playing inside and on the perimeter, and he's also a strong rebounder. He averaged 15.4 points and 6.6 rebounds per contest a year ago, including seven games in which he scored 20 or more points. Braun poured in a season-high 30 points on an efficient 9-of-11 shooting against IUPUI.
Braun doesn't attempt a ton of 3-pointers — he averaged only 2.6 per contest last season — but he is capable of making them (he shot 45 percent last year).
What it comes down to
The Hoosiers will face their first real test with limited interior depth on Monday night. Zeller, Christian Watford and Jeremy Hollowell will have to stay out of foul trouble.
Offensively, Indiana will likely have to make a good percentage of its outside shots. According to associate head coach Steve McClain, North Dakota State regularly packs to middle to force opponents from getting to the basket.
Thoughts on North Dakota State from the team
· Indiana coach Tom Crean on the Bison:
"They are a good program with a lot of experience and will present different challenges than we have faced this year. They are extremely tough and well-coached and they return their top five scorers."
· McClain:
"More than anything, we have to do a great job of knowing where we are at on the floor defensively – when to pressure them and when to back off. And we have to do a great job on the defensive boards because they do a great job of going to the glass hard."
"For our fans to watch, they are a team that plays the gaps on defense and they want you to settle for the jump shot. They do not want to give up penetration to the paint. So we have to make sure that we take our time and get the shot that we want.
"Bo Ryan's (Wisconsin head coach) son is on their staff and they have a Wisconsin flavor to them in how they play offense and defense."
· Guard Victor Oladipo on improvements that need to be made:
"Making less turnovers and being more consistent and playing at a team, along with playing at a high level. We need to do the little things so that we can get better inside of the game."
Filed to: North Dakota State, Tom Crean, Victor Oladipo