Notebook: Point guards Hulls, Ferrell start together in season opener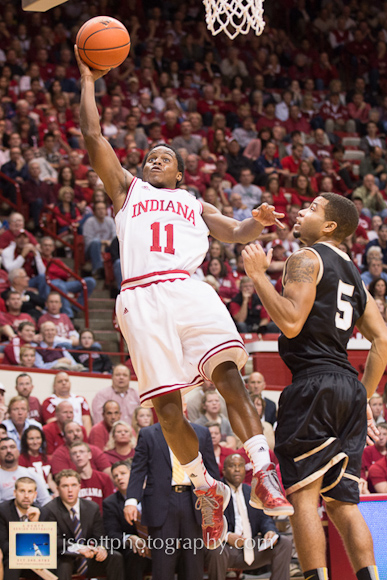 The expectation became reality on Friday night when point guards Yogi Ferrell and Jordan Hulls started together in No. 1 Indiana's season opening win against Bryant. Much has been made throughout the offseason about whether Ferrell and Hulls — both small guards — can play well enough defensively to play on the court together.
The two guards passed their first test on Friday.
While it wasn't perfect by any stretch, Ferrell and Hulls held their own on the defensive end in the Hoosiers' 97-54 win. There were a few breakdowns on the perimeter — especially early — but the guards seemed to improve as the game went on.
"We just gotta play tough on the defensive end," Hulls said. "I'm gonna have to guard bigger guys, and a lot of different players, honestly. Tonight I thought we did a pretty good job."
Offensively, Ferrell had 10 points, seven assists and five rebounds in his collegiate debut, and Hulls added nine points and five assists. Ferrell regularly got into the lane, drew Bryant defenders, and kicked to wide open shooters near the 3-point arc, including Hulls.
But the duo's offensive production wasn't much of a surprise. If Ferrell and Hulls want to continue starting and playing alongside each other, they will have to continue to defend at a high level.
"I thought they did a very good job defensively together because, ultimately, that's what the measuring stick will be as we go forward," Crean said. "Yogi is ahead of his years defensively. That's been a joy. And Jordan is a smart, savvy senior who's continued to become more athletic, stronger, all those type of things.
"When those guys can lead the way defensively, then we have a chance to have a really good backcourt with those two. I think they're going to be good offensively on the year. Some nights will be better than others. But the defensive part is gonna be crucial."
Watford, Zeller post double-doubles
Senior forward Christian Watford had 15 points and a career-high 15 rebounds against Bryant, and Cody Zeller added a team-high 18 points and 10 boards. Both players were very aggressive on the glass throughout the game, something that will be a point of emphasis early this season with a thin front line.
Freshmen Hanner Mosquera-Perea and Peter Jurkin will miss the first nine games due to suspension, and senior Derek Elston is still recovering from knee surgery.
"There's no question we're shorthanded on the front line. There's no way around it," Crean said. "We're trying to mix and match and do a lot of different things. The players responded really well to that tonight."
Watford, in particular, was impressive, especially considering he hasn't always been a strong rebounder. He got stronger in the offseason, and he was more aggressive than usual. All but one of Watford's rebounds came on the defensive end.
"I do think Derek Elston is in there sorting through jersey numbers because I'm not sure we're giving the 32 back to him," Crean said jokingly, referring to the fact Watford wore Elston's jersey to honor him. "If Christian's going to get his career-high in that number, we might just have to do it.
"He knows that's an objective that he's really gotta show up in. The next level wants to see that at a high level, we need that at a high level."
Etc…
· Early improvements: Even in a rout, Crean said he thought his team made several improvements during Friday's game. He was especially happy with the rebounding of Zeller and Watford, but he also mentioned Victor Oladipo's 17 deflections and Jeremy Hollowell's second-half production.
"It's one thing to win. It's a whole other thing to improve while you're winning. I thought we improved inside the game tonight."
· Zeller struggles at the line: Zeller has rarely had problems at the foul line. He shot 76 percent from the charity stripe last year. But the Hoosier big man made just 2-of-6 free throws against Bryant, accounting for four of Indiana's five misses.
"You're telling me, man," Zeller said of his struggles. "I don't know. I gotta figure something out. I'll figure it out."
· Ferrell likes up-tempo collegiate game: At long last, Ferrell and Indiana's other freshmen finally played in their first collegiate game on Friday night. It didn't seem to take long for the Park Tudor product to adjust to the new pace of play.
"It was a lot more up-tempo," Ferrell said. "I feel like I kind of handled it well, just getting out and pushing the ball in transition. It's a lot of fun. I know that's what coach wants us to do, pretty much get out and run, because I feel like that's when we can be the best. That change is pretty good."
· Hulls plays aggressively: One of the more surprising things to come out of Indiana's exhibition game against Indiana Wesleyan last week was the fact Hulls didn't score a single point and attempted only one shot. The senior guard was much more assertive on Friday, hitting 3-of-5 shots from the field, all 3-pointers.
"Jordan has been very aggressive for us since last Thursday, and that's what we need him to be," Crean said.
· Creek returns to action: Redshirt junior guard Maurice Creek, who missed all of last season with an Achilles' injury, returned to the floor for a regular season game for the first time since Jan. 15, 2011. Creek had six points on 2-of-3 shooting in 15 minutes.
"It's good to see Mo back out there," Hulls said. "We've seen him put in all the hard work. He's doing a great job. He's still getting used to the flow of the game, but I think he's adjusting pretty well for us."
Filed to: Christian Watford, Jordan Hulls, Maurice Creek, Yogi Ferrell