Crean agrees to contract extension through 2020 season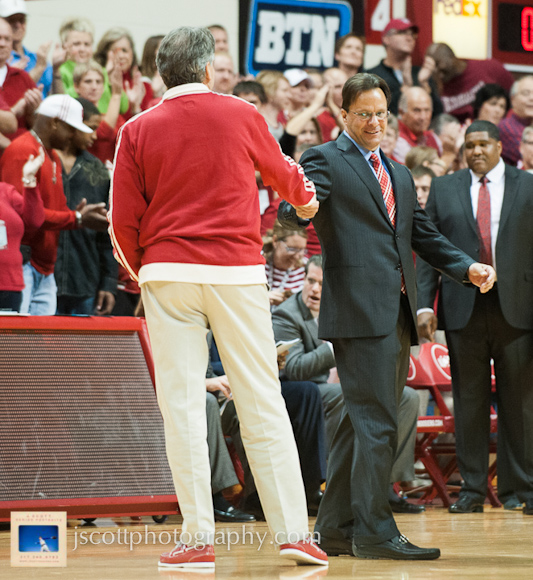 Just moments before the tip-off of tonight's season opener at Assembly Hall, Indiana Athletics Director Fred Glass announced a contract extension for Tom Crean that will keep him in Bloomington through at least the 2020 season.
Glass addressed a sellout crowd of 17,472 fans at midcourt with the news of two additional years to Crean's contract, which drew a rousing ovation before IU dismantled Bryant, 97-54.
"Tom Crean has done an absolutely phenomenal job bringing Indiana University back to its rightful place as one of the elite basketball programs in the country," Glass said in a release. "His energy, integrity, ability, passion, industry, vision, and commitment are unparalleled."
The new deal for Crean will run through June 20, 2020 and will increase his average annual non-performance based compensation from $2.52 million to $3.16 million.
Crean will also have a chance to earn performance bonuses of up to $55,000 per year for hitting APR, GSR and GPA benchmarks. The extension will also contain increased buyout and guaranty provisions.
"None of this would be possible without what my coaches do," Crean said following the win over Bryant. "I have such a great staff. And we lose Bennie [Seltzer] last year and he did a great job of helping us build this and then we replaced him with Kenny Johnson, who has been outstanding. I've got a group of people that have worked so hard and it wouldn't be possible without them.
"Most importantly, it wouldn't be possible without the way the players have persevered that have been here. Without the way they have improved, without their resiliency and toughness and their desire to win and compete and do things the right way."
Jordan Hulls, who is playing his fourth season under Crean, was happy to hear his coach has been rewarded for turning around the Indiana program.
"It's pretty special. He's helped us in more ways than we can even imagine, making men out of us, really," Hulls said. "He's helped me tremendously so it's pretty cool to watch him get rewarded for all the hard work."
Filed to: Fred Glass, Tom Crean