Short-handed Hoosiers ready for Friday's opener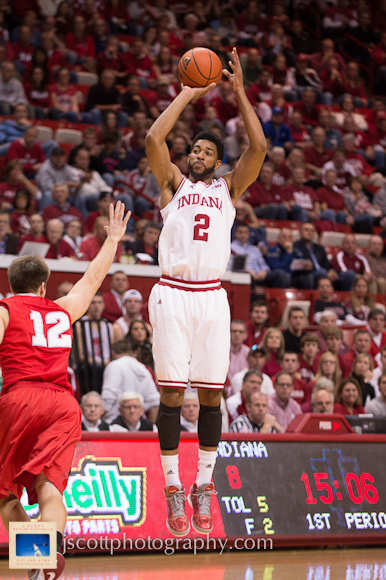 No. 1 Indiana enters Friday's opener against Bryant with a thin frontcourt as a result of an injury to Derek Elston and suspensions to Hanner Mosquera-Perea and Peter Jurkin. But those setbacks haven't put a damper on the team's excitement to tip off the season.
After earning preseason accolades, gracing magazine covers and having countless pieces written by the national media, the hype turns to reality following months of build up.
"We're definitely excited for it. It will be a different kind of test for us," sophomore Cody Zeller said Thursday. "We haven't played a game in so long, it seems like. It's exciting for us to just get the season going after conditioning and practice, doing summer workouts and weight lifting – we're finally to the day where we can kind of see where we're at and get the season going."
Zeller and senior Christian Watford are the only scholarship players available for the first nine games who are taller than 6-9, which means IU could use some unconventional lineups or junior walk-on Jeff Howard could see time.
"If we play conventional, our back up right now is Jeff Howard," Tom Crean said. "So there will be some conventional and there will be some unconventional."
Howard, who has three career points and has never played more than six minutes in a regular season game, could suddenly find himself playing rotation minutes.
"If you are in a uniform and on that roster, you get coached like everybody else every day and Coach [Crean] expects you to be able to step up and answer the call," associate head coach Tim Buckley said. "Being the NFL guy that he is, he'll use the term 'next man up' and Jeff happens to be the next man up.
"He can really do some things for us defensively. He's got great feet. He's got good instincts in that regard. He's just got to go out there and play with that confidence that he's capable of and you could very well see him in there and we expect him to do the job that we'd expect any of the other guys to do."
Watford wearing No. 32
With Elston likely out until at least mid-December, Watford wanted to do something to honor his teammate who suffered a torn meniscus at Hoosier Hysteria.
Although Watford had hoped it would be a surprise, it was announced Thursday that he will wear Elston's No. 32 on Friday.
"I really didn't want you all to know that," Watford said with a smile. "He's been with me for a long time and I just want to go out there with him. He can't come out there and actually play on the court, so I wanted to do that for him."
Crean said that the legality of the number switch had to be looked into before giving Watford clearance to honor his friend and teammate.
"When I thought about it, I thought it was an incredibly noble gesture," he said. "I think it's pretty special. I think it goes to show how close these guys are in ways we wouldn't even imagine."
Bryant ready for the challenge
After going 2-28 a season ago, coach Tim O'Shea brings what he hopes is a much improved group to face the country's top team.
Bryant is now a full Division I member after completing a four-year transition from Division II.
"Well I think we're vastly improved — certainly from where we were a year ago," O'Shea told Inside the Hall. "But also from where we started this whole process of transitioning from Division II to Division I. That said, we played Indiana a few years ago; they're also a whole heck of a lot better than they were a few years ago which is obvious by their ranking."
O'Shea understands the task on Friday night won't easy. But he also is hopeful that his team, led by junior Alex Francis (17.7 ppg, 7.8 rpg) will learn from the experience.
"We're going to try as hard as we possibly can and welcome the chance to test ourselves against what most people feel is the top team in the country," O'Shea said. "We're excited about it. We're really honored to be here. We're kinda opening our first year in Division I against the No. 1 team in the country which is kinda neat. I'm really excited for our guys to have a chance to see Assembly Hall. It's such a great venue for college basketball."
Etc.
· Wooden Award watch: Zeller and Watford were both named to the Wooden Award preseason top 50 list on Thursday. "It's definitely a great honor," Zeller said. "Obviously not many people in the country make the list for how many great college basketball players are out there."
· No experiments: Crean was asked whether being down three guys in the frontcourt would lead to any experiments on Friday night. His response left little doubt. "There's no experimenting," he said. "We're trying to win and we're trying to win big. We're not going out there to feel our way through situations."
· Yogi's ready: When asked about IU's freshman McDonald's All-American, Buckley has little doubt that freshman guard Yogi Ferrell will be ready to go Friday night. "I don't know if I'd say Yogi has to get his feet wet," the IU associate head coach said. "I think they've been wet probably since he was about in fifth grade. I think he's a player, and he's been ready to play for a long time."
Filed to: Bryant Bulldogs, Christian Watford, Cody Zeller, Jeff Howard, Tom Crean