Sports Illustrated tabs IU No. 1, Zeller on regional cover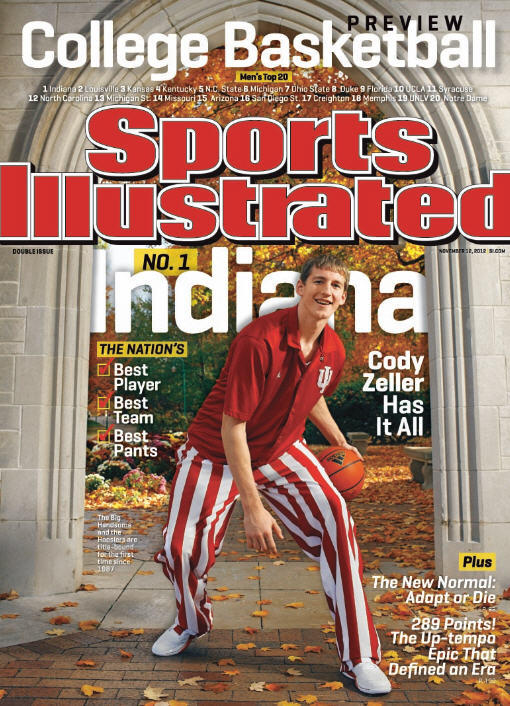 Indiana has been selected as the preseason No. 1 by Sports Illustrated and the magazine has selected Cody Zeller for one of its four regional covers for this week's issue.
Here's the complete release from Sports Illustrated:
(NEW YORK – Nov. 6, 2012) – This is the season Indiana basketball fans have been waiting for. The talented and experienced Hoosiers begin the season ranked No. 1 in Sports Illustrated's 2012 College Basketball Preview, on newsstands now. Cody Zeller, who may be the most important recruit to come to Indiana since Isiah Thomas, is set for a dominant sophomore season and is featured on Sports Illustrated's regional cover. This marks the first time an Indiana Basketball player has been featured on the cover of SI since D.J. White in 2007.

The last five top ranked preseason teams to be featured on SI's College Basketball preview have all at least reached the Sweet 16:

2012 – Indiana Hoosiers (TBD)
2011 – North Carolina Tar Heels (Elite 8)
2010 – Duke Blue Devils (Sweet 16)
2009 – Kansas Jayhawks (Sweet 16)
2008 – North Carolina Tar Heels (won NCAA title)
2007 – North Carolina Tar Heels (Final Four)

Indiana is one of four teams with its own cover this week, along with No. 2 Louisville, No. 3 Kansas and No. 11 Syracuse.
Filed to: Cody Zeller, Sports Illustrated