Notebook: Creek shines in return from injury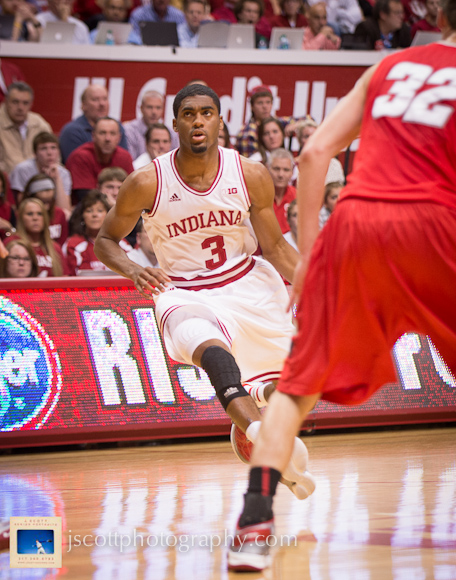 Maurice Creek got off the bench and walked toward the Assembly Hall scorer's table with just over 11 minutes left in the first half of Thursday night's exhibition game against Indiana Wesleyan. Creek checked in with the official scorer, then waited patiently for the moment he's been thinking about for more than 20 months — the moment he'd walk back onto Branch McCracken Court in a game.
A dead ball came at the 10:57 mark, and Creek entered to a standing ovation. He couldn't help but smile.
"A standing ovation?," Creek said afterward. "That's big time, that's love. I can't do nothing but thank them, thank everybody."
Creek played in a game for the first time since Jan. 15, 2011 on Thursday after missing all of last season with a torn Achilles. The redshirt junior guard wasted little time making up for lost time.
Creek scored a team-high 12 points on 4-of-6 shooting — including 2-of-4 from 3-point range — in just 15 minutes on the court.
"I felt great," Creek said. "Being with these guys is what I always wanted. … I thank these guys every day to give me the strength to go through the rehab, go through the rough times and rebuild to get to this point."
Added Indiana coach Tom Crean: "I was really excited for Maurice. It was emotional watching the crowd react to him. It wasn't surprising because it's Indiana, but you can't take it for granted. … It's been a long road, but he's earned it. He'll be better for it, and I think you've seen he can really help this team."
Crean understands he'll have with be careful not to push Creek too hard too fast after his three surgeries, but he also wants Creek to be part of the regular rotation. Crean knows finding that balance will be one of his major challenges with Creek this season.
"When he shows that burst, that shows that the legs are getting a little stronger," Crean said. "He's still a ways away, and I'm getting more conscious of that. It's going to be a long year and we want him to be strong for the whole thing."
Hoosiers overcome slow start
It wasn't exactly the start you may have expected to see from the No. 1 Hoosiers, but they quickly found their groove.
IU fell behind 13-4 early against Indiana Wesleyan due, in part, to poor defensive execution. The Hoosiers lost some shooters on the perimeter, and paid the price.
"It's just not being up into your guy," Crean said. "It's not like they were out of position. We weren't bringing enough pressure to the game. We'll get better at that. We don't practice like that. We were just off a step a little bit, and then we fixed that."
The Hoosiers fixed it, indeed, outscoring the Wildcats 37-17 the rest of the half. After a sluggish start, IU showed more defensive intensity as the game went on and regularly turned their defense into offense.
"Going down 13-4 never really helps you," said IU junior forward Will Sheehey, "but we saw that and knew we had to pick it up on D. I don't think that's going to happen very often from here."
Depth shows
With all five starters back from last year's Sweet 16 team and a strong class of freshmen coming in, the Hoosiers were expected to be a deep team this season. That depth was on display Thursday night.
After the slow start from the starters, IU's bench stepped up and helped the Hoosiers pull away from the pesky Wildcats. IU had 46 total bench points, including 12 from Creek, 11 from Sheehey and seven from Abell. Fourteen Hoosiers played in all, and 11 got at least 11 minutes of action.
"This is a deep team," Creek said. "I can see that tonight. We had multiple lineups and when you're number is called, you want to do everything possible to help the team."
Abell, in particular, looked like a much-improved player. The sophomore guard knocked down a 3-pointer, drove the ball hard to the basket and was a pest on the defensive end. But Crean thinks Abell can be even better.
"Remy doesn't have an idea of how good is, how talented he is, how tough and strong he is," Crean said. "We have to get Remy to go from flashes to consistency. I don't think he's scratching the surface right now of how good he can be."
Etc.
· Christian Watford was very aggressive on the boards and played a solid game. He finished with 11 points and six boards, including four on the offensive end.
· Yogi Ferrell was impressive in his first collegiate game, but he looked like a freshman at times. The former McDonald's All-American made a couple nifty mid-range jump shots and several nice passes, but he also turned the ball over four times. Ferrell finished the game with eight points and four assists in 22 minutes.
· Peter Jurkin is clearly still a work in progress. He played 11 minutes and scored four points, but the game seemed to be a bit fast for him. He struggled to catch a couple passes on the offensive end and was out of position a couple times defensively. Crean said he hopes Jurkin's teammates start being harder on him in practice.
· Hanner Mosquera-Perea did not play due to a lingering foot injury. He dressed but sat on the sideline in a walking boot.
Filed to: Indiana Wesleyan, Maurice Creek