What to watch for: Indiana Wesleyan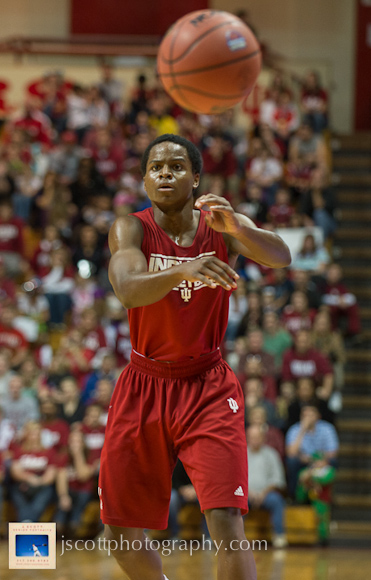 With No. 1 Indiana's one and only exhibition game set for Thursday night at Assembly Hall, here are some things to watch for in the Hoosiers' first game action of the year.
1. Starting lineup
It has been one of the most discussed and debated topics during the offseason, and we'll finally get some answers on Thursday night. Who is going to start?
I continue to maintain that Tom Crean is going to go with Yogi Ferrell and Jordan Hulls in the backcourt with Victor Oladipo, Christian Watford and Cody Zeller up front. Now, just because Crean starts with a lineup against Indiana Wesleyan doesn't mean he's going to run the same lineup out there on Nov. 9 against Bryant. You just never know. But IU fans should get a good idea what sort of rotations the Hoosiers plan to play with on Thursday night.
If Crean does decide to go with Ferrell and Hulls together in the backcourt, watch to see how they work together, specifically on the defensive end. Offensively, that duo could be a treat to watch.
"When we're on the court at the same time, I'm always looking for him," Ferrell said of Hulls. "If someone leaves him, that's a bad thing for them. I'm gonna find him for sure, and I know he can definitely knock down a jumper for me."
2. The freshmen in action
Sure, they've played in front of crowds for Hoosier Hysteria and Haunted Hall of Hoops, but playing a game against another opponent is an entirely different story. Ferrell, Jeremy Hollowell, Hanner Mosquera-Perea and Peter Jurkin will get to suit up in the candy stripes for the first time, and there certainly could be some nerves.
Keep a close eye on Ferrell, who figures to play the most minutes of the four freshmen. In the few times we've gotten to see him in the preseason, Ferrell has looked very comfortable playing alongside his new Hoosier teammates. Will he look the same way against a different opponent? Oladipo thinks so.
"He's ready," Oladipo said. "I watch him every day, and I've been watching him grow since the first day he got here. He's gotten stronger and he's gotten smarter. I'm pretty sure he'll perform at a high level. I believe in him and we believe in him."
It's unclear if the NCAA has ruled on the eligibility of Jurkin and Mosquera-Perea, but both are expected to play on Thursday night, according to a program spokesperson.
3. Improved defense?
If the Hoosiers are going to compete for a national championship this season, they're going to have to be much better on the defensive end. They've talked throughout the preseason about the added emphasis they've placed on their defense, but they'll get their first test on Thursday night.
Indiana Wesleyan certainly isn't anything close to a Big Ten opponent, but its no slouch, either. Wesleyan averaged 75 points per contest a season ago.
Oladipo believes the Hoosiers have improved defensively for one particular reason.
"When you are vocal on defense, people actually want to play defense," he said. "I think our whole team is doing that."
Many have questioned how the Hoosiers will defend when Ferrell and Hulls — both undersized guards — are on the court together. Ferrell, who played almost exclusively zone defense in high school, says he's ready for the challenge of man-to-man defense.
"It hasn't really been as difficult as I thought it would be," Ferrell said. "We work on defense every day. The coaches put a big emphasis on it, and I feel like I picked up everything pretty quickly."
Filed to: Indiana Wesleyan