The Inside the Hall Mailbag: October 31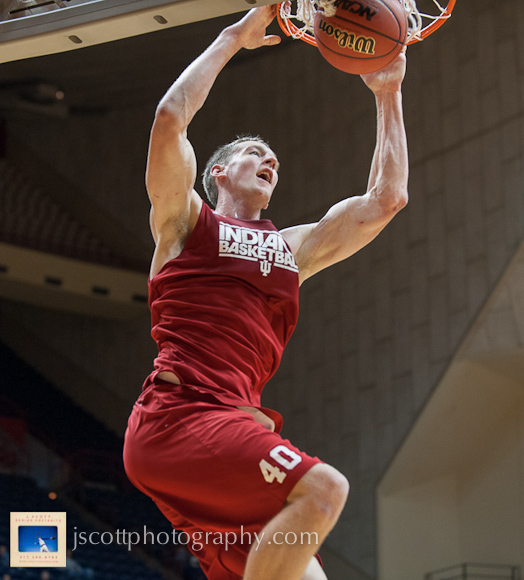 The Inside the Hall Mailbag is a collection of questions tweeted to us via Twitter (@insidethehall) and sent to us via our Facebook page. Submit your questions and we'll answer as many as we can. 
Steven Harris writes: IU clearly has a lot of depth at positions 1-3, but there doesn't seem to be as much room to cope with foul trouble or injury in the front court. How well do you think Jurkin and Perea can perform in the B1G this year if we need to call their numbers more than anticipated?
Steven, you raise an interesting and potentially valid point, but Indiana does have the best player in the country in the front court in Cody Zeller. And the foul trouble problem was mostly avoided a season ago by Zeller. That makes the need for backup time at the five probably at no more than 8-10 minutes per game.
To date in the preseason, Hanner Mosquera-Perea has been hampered by a foot problem and Peter Jurkin has participated in both public scrimmage events, but has a broken nose. And the news of a torn meniscus for Derek Elston took a rotation player out of the front court depth chart for now. Based on what I've seen of both Mosquera-Perea and Jurkin, I think both players would be fine playing minutes off the bench once the conference season rolls around. Jurkin has plenty of work to do offensively, but he's a capable defender and will hold his own on the glass. Elston should be back by the time Big Ten rolls around, so that will also help the depth up front.
Side note: The mailbag received several inquiries to address the eligibility status of Mosquera-Perea and Jurkin and at this point, there's nothing to report. Tom Crean was asked by a reporter at Big Ten Media Day if both players had been cleared to play by the NCAA and gave this response: "Everything we're going through with those guys right now has been the same stuff that we've been going with ongoing. We've always had a plan for how we deal with all of that. That's how it's been, the whole way." — Alex Bozich
Matt Uhl writes: How do Yogi and Jordy get the looks they want in the same offense?
I actually don't see this being much of a problem. Yogi Ferrell is very much a pass-first point guard, and I think that will be even more the case given the weapons on this team. I believe Yogi will be satisfied no matter how many shots he gets, as long as he is running the offense effectively.
Hulls will get plenty of shots, both in the transition game and as a result of penetration and/or screens. Also, with the pace IU plans to play at, there should be plenty of shots to go around. — Justin Albers
Matt Marbaugh writes: Do you have any hope of zeller staying 1 more year?
There's hope, Matt. Here's why: Zeller's different. From all available evidence, he's not dying to jump to the pros like his contemporaries with similar promise.
As a likely lottery pick after his 2011-12 freshman campaign, he chose to come back to IU for another season. And Tom Crean's comparison of Zeller to Andrew Luck — a top-rated quarterback at Stanford after his sophomore season who came back for a junior year — at Big Ten Media Day last week was another indication it's no sure thing Zeller will make the leap.
Crean said that he sees Zeller being similar to Luck "especially when it comes to decision making."
He added: "When that decision is right for him, then it'll be right for him. And I don't think anybody on the outside, I don't think anybody could ever dictate that. He's going to get better; he enjoys college; he's doing a great job academically; he loves his teammates; you can see all those things. We're fortunate to have him. When that day comes it will come. And I think he'll be the one that will make those decisions based on that."
If the Hoosiers sail off into the sunset with banner No. 6 and Zeller is a consensus top three — or top overall — pick? It would seem logical he has a perfect exit strategy. But he's a young man that's not swayed by the crowd. And it's why, even on the eve of a season he's entering with preseason Player of the Year accolades, it's not out of the question he'll back back in the cream and crimson for 2013-14. — Ryan Corazza
@tbrown1820 writes: did Hanner re aggrevate his same injury after the televised practice? If so is this a more serious injury than it seems?
To answer your first question, yes, that seems to be the case. Early in the week leading up to Hoosier Hysteria, Mosquera-Perea practiced and looked very good. Looking back at our notes from Indiana's fourth practice, here's what we wrote: "Mosquera-Perea was very aggressive attacking the glass for rebounds and like Christian Watford, he's still getting his conditioning where it needs to be after missing some time with a foot injury. But this much is clear: There are few guys with the physique and pure athleticism that Mosquera-Perea possesses. Crean said after practice that he's very pleased with how Mosquera-Perea has progressed since returning two weeks ago."
But he did suffer a setback later in that same week and didn't participate in Hoosier Hysteria. The most recent update from Crean on Mosquera-Perea came after Hysteria: "We're going to hold him out for a little while too. He's been practicing so well, but had a little flare up. We really don't want to have any issues with that, so we're gonna take a little time with him."
As far as the severity of the injury, we don't have any information beyond that it's been an issue since the summer. Perhaps we'll know more by tomorrow night. — Alex Bozich
@andrewgray77 writes: what are the chances that IU lands Noah Vonleh based on the scholarship situation?
I don't think there's any relation between IU's chances and available scholarships. Vonleh appears to be holding off until the spring to sign a National Letter of Intent. If he wants to come to Bloomington, he'll have a scholarship. As far as IU's chances go, I believe they're very strong and it's a good sign the Hoosiers are receiving the first official visit from the five-star forward. — Alex Bozich
@PNorris11 writes: what role do you see Jeremy Hollowell playing this season?
I think Hollowell will play a fairly significant role off the bench this season. Hollowell has looked energetic in the two scrimmages we've seen in the preseason, and going against a player the caliber of Chrisitan Watford every day will undoubtedly help him. At this point, given the fact Hanner Mosquera-Perea has missed time with injury, I see Hollowell being the third guy off the bench after Will Sheehey and Remy Abell (assuming Tom Crean goes with a starting lineup of Jordan Hulls, Yogi Ferrell, Victor Oladipo, Watford and Cody Zeller). — Justin Albers
Filed to: Cody Zeller, Hanner Mosquera-Perea, Jeremy Hollowell, Yogi Ferrell