2013 forward Troy Williams commits to Indiana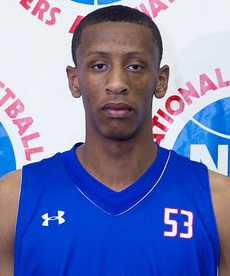 When Troy Williams arrived in Bloomington for his official visit last weekend, he was leaning toward North Carolina. Indiana was in the picture, but it certainly wasn't leading.
When Williams left Bloomington after Hoosier Hysteria, he was pretty sure he wanted to play his college basketball for the Hoosiers.
Williams, a 2013 recruit from Oak Hill Academy in Virginia, officially committed to Indiana on Sunday afternoon after a week of contemplating his decision. He becomes the fifth member of Indiana's 2013 recruiting class, joining Stanford Robinson, Luke Fischer, Devin Davis and Collin Hartman.
Williams, a 6-foot-7 forward, is the 32nd-ranked player in the 2013 class, according to ESPN.com. Williams is the highest ranked player in the Hoosiers' class.
"The visit did it," said Boo Williams, Troy's uncle and AAU coach. "To get a kid to Indiana in ACC country, I can't believe it. That's the first kid we've ever had in 30 years go to Indiana. It's amazing."
Boo Williams said his nephew was blown away by the Indiana fans and the atmosphere that was created at Assembly Hall during Hoosier Hysteria. Troy Williams had originally planned to wait until the spring to make a decision, but his timetable was accelerated after his trip to Bloomington.
"It's a good decision. Troy feels comfortable with this decision," Boo Williams said. "Coach [Tom] Crean did a great job recruiting the kid. [Assistant coach] Kenny [Johnson] did a good job. When I went there and saw the staff, I think they can make him better."
Steve Smith, Troy Williams' coach at Oak Hill, said Williams returned to school after the visit pretty sure he wanted to go to Indiana. Smith said Williams took the week to sit on his decision and discuss it with his family to make sure everyone was on the same page.
"People were talking about it, so he just wanted to get it over with," Smith said. "He was getting a lot of heat the last few days. He didn't want to feel like he was pressured into it, so he just decided to go ahead and get it over with and announce it. … He's relieved that the process is over."
As for the reason why he chose Indiana, Smith said Williams felt like he "fit in" well in the program. Prior to his official visit last weekend, Williams knew very little about the way the Hoosiers played. When he got to witness a couple practices in person, Williams was able to envision himself out on the court.
"He sat down with coach Crean, he watched them practice, the things that they discussed, he felt like he fit their style of play," Smith said. "I always tell my players that style of play and an opportunity to play are the two most important things. He feels like with coach Crean, he can develop and reach his potential. That's what most players want.
"He sat down with me and said, 'coach, I didn't know the way they played, but I watched two practices, I feel like I fit their style of play.' That was a big plus in his decision. He just felt like he fit in better than some of the other schools."
Smith said he can see Williams fitting in well with Crean and the Hoosiers.
"He is high energy, both ends of the floor," Smith said. "He's long, athletic. He can be a great defender. We're working with him on that right now. He's probably one of the best offensive rebounders I've ever been around. He's been much better with his shot selection now. And he's a great passer. Most people have no clue of that because all they see is dunking and shooting 3s. But he's a great passer."
Filed to: Troy Williams