Davis recaps official visit, looks ahead to senior season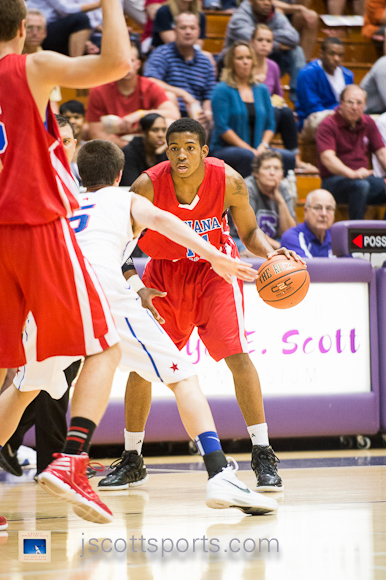 Having already made his verbal commitment to the Hoosiers back in Nov. of 2010, Devin Davis used his official visit weekend to learn even more about where he'll spend the next four years.
"It was probably one of the best weekends I've had going down to IU," Davis told Inside the Hall on Tuesday evening. "They treated me well, they showed me around and what I'm going to be experiencing every day."
Davis, a class of 2013 forward from Warren Central, was one of six recruits on official visits.
It was the third straight Hoosier Hysteria Davis attended. He said this year's was much different than the previous two with IU being ranked preseason No. 1 and Assembly Hall being at capacity.
"It felt way different than last year or the year before that," he said. "I feel like they knew there was going to be a lot of people there and sold out. They put on a show and showed what you're going to see at IU."
Getting a chance to watch practice was also an eye opening experience for the Warren Central senior.
"It starts being intense once they start stretching and that's at the very beginning," Davis said. "None of the coaches play around. They already know what's expected and how hard they need to go and how better they need to get. I feel like in every practice they try to get better and they do get better."
Three of Davis' future teammates — Collin Hartman, Luke Fischer and Stanford Robinson — were also in Bloomington as were BeeJay Anya and Troy Williams.
Davis and Hartman have been friends and AAU teammates for several years, but he wasn't as familiar with Fischer or Robinson prior to the weekend.
"At the start of the weekend, the only one I was really close to was Collin," he said. "But I felt like as the weekend went on and we started to be around each other more, me, Luke and Stan got really close and got to know each other a lot better."
He also used the weekend for some dialogue with Anya and Williams, who both have IU offers and are seriously considering the Hoosiers.
"BeeJay, Troy and I also built a strong relationship, especially me and BeeJay," Davis said. "He said that no other college he's been to treated him like IU treated him. So I think he really liked it. I think IU has a good chance with him and I feel the same way with Troy."
Up next for Davis is his senior season at Warren Central, where he's a strong candidate for Indiana All-Star accolades.
The Warriors, coached by former IU guard Greg Graham, will get a stiff test out of the gate on Nov. 30 when they host Hartman and Cathedral, who could be the preseason No. 1 team in the state. It's a challenge Davis feels he is ready for.
"I think I've improved on being more of an all-around player, being more of a scorer and just being dominant (since the end of AAU)," he said. "I feel I've become a better leader also. Our high school team is getting our chemistry together, so I feel like we have a good chance to go to state."
Filed to: Devin Davis