Inside the Hall's preseason All-Big Ten teams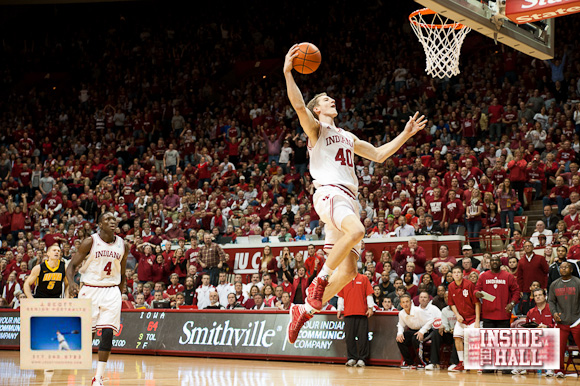 With Big Ten media day looming on Thursday in Chicago, it's time to reveal Inside the Hall's preseason All-Big Ten teams and our picks for player of the year, freshman of the year, sixth man of the year and defensive player of the year in the conference:
THIRD TEAM
Jared Berggren, Wisconsin
Branden Dawson, Michigan State
Victor Oladipo, Indiana
Roy Devyn Marble, Iowa
Gary Harris, Michigan State
Comment: A lot of players under consideration for this third and final team including Ryan Evans of Wisconsin, Brandon Paul of Illinois, Adreian Payne of Michigan State and Aaron White of Iowa. An argument can be made for each player, but Oladipo and Marble took the final two spots because we're expecting both to make even larger strides in their junior campaigns.
SECOND TEAM
Tim Frazier, Penn State
Keith Appling, Michigan State
Trevor Mbakwe, Minnesota
Christian Watford, Indiana
Tim Hardaway, Michigan
Comment: While Mbakwe was in our top 5 players in the league back in August, his recent legal woes could either serve as motivation or a distraction. Frazier will be on a lot of preseason first teams as well, but he misses with us due to being inefficient offensively, whether it's his fault or not.
FIRST TEAM
Cody Zeller, Indiana
Trey Burke, Michigan
Deshaun Thomas, Ohio State
Aaron Craft, Ohio State
Drew Crawford, Northwestern
Comment: The surprise here is Crawford, who will shoulder an even bigger load with the departure of Jon Shurna and as a result, should put up monster numbers. The other four picks were no-brainers.
PLAYER OF THE YEAR: Cody Zeller, Indiana
FRESHMAN OF THE YEAR: Gary Harris, Michigan State
DEFENSIVE PLAYER OF THE YEAR: Aaron Craft, Ohio State
SIXTH MAN OF THE YEAR: Will Sheehey, Indiana
Filed to: 2012-2013 Big Ten preview