Stanford Robinson on Hoosier Hysteria: "It was one of the greatest moments of my life"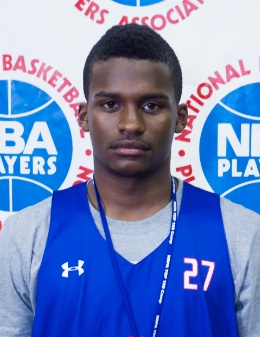 Stanford Robinson knew his trip to Bloomington for Hoosier Hysteria would be a special one. After all, the 2013 recruit committed to Indiana in May, in part, because of the huge support for the program by the students and fans in Bloomington.
But even he couldn't have anticipated what was going to take place at Assembly Hall on Saturday night.
Robinson and the numerous other recruits who were in attendance had their names chanted by the capacity crowd as they walked across the court to their seats. They got to see an impressive display of skill and talent in a variety of events, including a competitive scrimmage.
To sum it up, Robinson was in attendance for one of the better Hoosier Hysteria events in quite some time.
"It was one of the greatest moments of my life," Robinson said. "It was like a moment you'd never seen before. The fans are great, the players are awesome. They really interacted with the fans and everyone that was there, and it was just fun to see that.
"They were talking about how packed it would be, but I just really couldn't imagine it. So when I saw it, it was incredible."
Robinson, who attends Findlay Prep in Las Vegas, is especially important to Tom Crean's continued recruiting efforts because of his relationship with 2013 targets Beejay Anya and Troy Williams. Robinson is close with both Anya and Williams, who made their official visits to IU over the weekend and were in attendance at Hoosier Hysteria.
Anya, a 6-foot-9 forward from DeMatha High School in Maryland, is the 30th ranked player in the 2013 class, according to ESPN.com, and Williams, a 6-foot-7 forward from Oak Hill Academy in Virginia, is the 31st ranked player in the class.
"It was pretty fun because me, Beejay and Troy are real close friends," Robinson said. "The fans chanted their names as well. They really liked the attention. It was like nothing they had seen before."
Filed to: Stanford Robinson