What to watch for: Hoosier Hysteria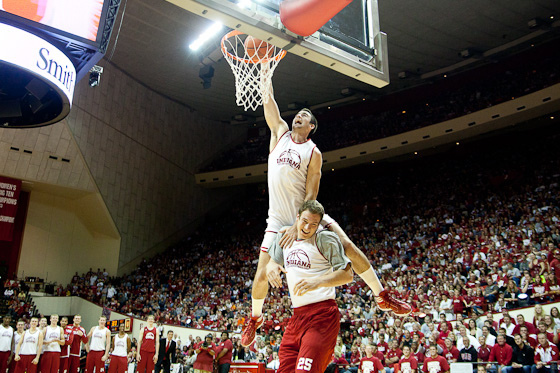 With Hoosier Hysteria just a day away, the Inside the Hall team looks at three things to watch for Saturday in Assembly Hall:
· First look at old and new faces: Saturday night should mark the first time fans will get a live look at the 2012-13 Indiana squad during the scrimmage portion of Hoosier Hysteria. While a scrimmage obviously isn't a real game –and it's possible the electricity of the evening might have the team playing a bit frantic or out of control at times — there's still bound to be a few things to gleam from it.
How the teams are split up may dictate just what to look for, but here are a few items of note to keep an eye on without knowing squads: How Yogi Ferrell and Jordan Hulls work together in the backcourt (though it may make more sense for them to play the point for opposing teams); a bulked up Cody Zeller who just may be flashing a jumper or two; Hanner Mosquera-Perea's conditioning after missing time; Will Sheehey's game, as Tom Crean has noted him as the team's most improved player along with Zeller; Peter Jurkin's defense (broken nose and all); Victor Oladipo's jumper (is he confident in it?); Christian Watford's potential continued aggression, as he finished with a few dunks at Monday's practice.
There's also the return of Mo Creek, which Justin touches on below. — Ryan Corazza
· The return of Mo Creek: Fans got their first look at Maurice Creek in quite a while during last Friday's televised practice. But it will be interesting to see how Creek looks on Saturday night, especially in a scrimmage setting. Creek didn't play last season after injuring his Achilles' during the preseason, and he's had three major surgeries during his three-plus years at Indiana.
Creek may be one of the participants in the 3-point shootout, which should give IU fans a good opportunity to see how Creek's perimeter shot looks. Obviously, it might look quite different in regular games when he gets tired and is forced to use his legs more, but Saturday night should at least provide us with a general idea of where Creek is at.
Also, assuming the Hoosiers scrimmage during the Hoosier Hysteria event, who will Creek be playing with? Pay close attention to who he is paired with in the backcourt and how many sets he has run for him. Will Tom Crean use him primarily as a stationary perimeter shooter, or will Creek be relied upon to penetrate and create as well?
Regardless, Creek should get a pretty solid round of applause from the IU faithful on Saturday night after all he's overcome to make it back to the court. — Justin Albers
· Recruiting showcase: For as much attention as the on court product will receive from the fans, the faces in the crowd will also be watched closely. Indiana is expected to have six official visitors this weekend. Collin Hartman, Devin Davis Jr., Luke Fischer and Stanford Robinson, who have each committed to the program, and BeeJay Anya and Troy Williams. The list of 2014, 2015 and 2016 visitors is loaded as well.
Over the years, it's been interesting to watch the shift of opening practices around the country transform into entertainment showcases. Last year's Hoosier Hysteria featured creative player entrances and introductions, Victor Oladipo singing, D.J. Steve Porter spinning records, appearances by several former Hoosiers and ESPN and CBS analyst Bill Raftery serving as the emcee.
Much of the same should be expected tomorrow as ESPN Sportscenter co-host and Indiana graduate Sage Steele is scheduled to emcee. The planning of Hoosier Hysteria becomes more complex each year and includes the coaching staff, players and plenty of university employees. Tom Crean said at his media availability earlier this week that he expects Hysteria to be "huge for recruiting, there's no question about that." So expect plenty of entertainment and some surprises along the way with not only the fans and students in mind, but things that will appeal to recruits, as well. — Alex Bozich
Filed to: Hoosier Hysteria