Competition at a high level in Indiana's fourth practice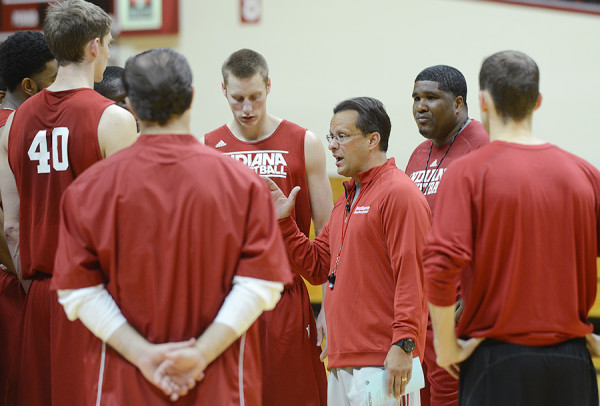 Photo credit: IndianaMBB on Twitter
Inside the Hall had a chance to watch Indiana's fourth practice of the season earlier today and here are our observations and what stood out:
· The competition and attitude was high level: Tom Crean has talked some in the preseason about IU's depth affecting the level of competition and it certainly showed today. This was our second time watching a practice under Crean and the competition level combined with the spirit of the players was fun to watch. The bench could be a huge asset for Indiana given the amount of talent on the roster and how Crean has talked about wanting to play from a pace perspective. But ultimately how deep this group will be determined by the amount of drop off there is when going to the bench.
· Christian Watford, who is still getting his wind back after missing some time in the offseason with a foot issue, looked more aggressive around the basket. In one sequence, he blocked Victor Oladipo's shot on a drive. And on a couple of occasions, Watford finished plays with dunks, something he's rarely done over the previous three seasons.
· Rebounding and defense are two clear areas of emphasis for Indiana going into the season. From a rebounding perspective, sending four men to the glass is something Crean stressed the importance of as well as positioning when a shot goes up. One of the more interesting drills was a two-on-two situation where a manager's shot went up and it was a free-for-all to see who could get the ball and end up finishing a putback. Will Sheehey and Hanner Mosquera-Perea battled throughout the drill, a matchup Crean later said he set up before practice. The grit of Sheehey going against the pure power and strength of Mosquera-Perea will no doubt result in improvement for both players.
· Mosquera-Perea was very aggressive attacking the glass for rebounds and like Watford, he's still getting his conditioning where it needs to be after missing some time with a foot injury. But this much is clear: There are few guys with the physique and pure athleticism that Mosquera-Perea possesses. Crean said after practice that he's very pleased with how Mosquera-Perea has progressed since returning two weeks ago.
· The mentoring of the freshman by the upperclassmen in the preseason has carried over into practice. When a mistake was made by the newcomers, the returning players were quick to step up and help coach them through it. Sheehey in particular was very vocal throughout the practice.
· Yogi Ferrell and Jordan Hulls played together and did so effectively. Much has been made on whether the two can play together from a defensive standpoint, but offensively they complement each other so well. Ferrell's ability to find his teammates in the right spots coupled with Hulls' knack for finding openings out on the perimeter will be a tough combination to contend with.
· Oladipo was putting the vocal leadership he talked about at the media challenge into play from start to finish of the practice. Defensively, he caused arguably the most havoc of anyone with his ball pressure and he looked much more confident hitting shots from the midrange.
· Maurice Creek looked much more fluid than I expected after coming back from his third major surgery in 22 months. Creek participated in every drill, including the rebounding drills with significant contact. He still may be a step slow from where he once was, but he looks like a different player than he did when he returned for 18 games a sophomore. Creek also shot the ball very well from the perimeter and also got into the lane a couple of times and scored against length, which is encouraging.
· Cody Zeller said at the media challenge that he felt like he could move very well at 240 pounds and the added weight and strength has only helped his game. He's more explosive around the basket and he was battling relentlessly on the glass. On one sequence, Zeller dove out of bounds attempting to save a loose ball near the sideline.
· Peter Jurkin wore a mask to protect his recently broken nose, but gave Zeller problems a few times in the paint with his length. Jeremy Hollowell, was also effective at times shooting from the perimeter and his length shows promise for the type of defender he can become.
· Danny Ferry, General Manager of the Atlanta Hawks, was there watching.
Filed to: Cody Zeller, Tom Crean, Victor Oladipo, Will Sheehey, Yogi Ferrell