Upperclassmen move quickly to bring along IU's freshmen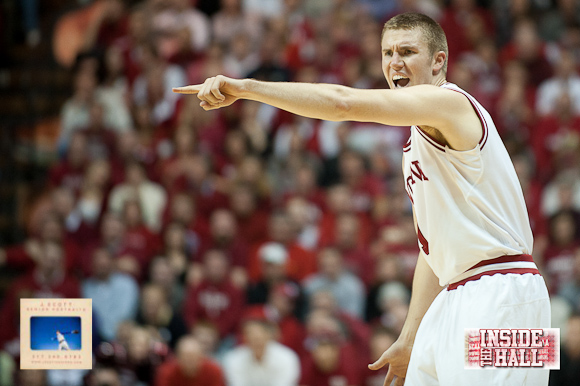 When the class of 2009 arrived in Bloomington in June of that year, the program was coming off a 6-25 season that included a 1-17 record in the Big Ten. Player driven leadership had yet to manifest itself.
Move the clock forward three years as Christian Watford, Derek Elston and Jordan Hulls continue their preparation for their final season in Bloomington and it's clear the upperclassmen are working to build relationships and expectations for the four newest members of the program.
The 2009 group had no one to pull them aside and serve as role models during their adjustment period to college. In fact, Indiana's hopes for success during the 2009-2010 season, Tom Crean's second year, were largely pinned on the freshman leading the way.
That isn't the case for Hanner Mosquera-Perea, Jeremy Hollowell, Peter Jurkin and Yogi Ferrell, who have dropped the "Movement" moniker and are now just Hoosiers.
"We tried something new with the freshmen, kind of grabbing a freshman and taking them along, kind of getting them up to speed, to where we are," Elston said Thursday. "Me and Jordan, we never really had that. We would call coach (Tim) Buck(ley) and ask to go shoot. Now that we have Cook (Hall), and now that we have guys that want to come in here on their own time and actually get better, it just makes you feel good about where this program's come."
Ferrell, the point guard from Park Tudor, is paired with Hulls and Cody Zeller. Hollowell, who has drawn comparisons to Watford because of his length and laid back demeanor at times, is paired with Remy Abell and Will Sheehey. Mosquera-Perea, a native of Colombia, is paired with Austin Etherington and Watford. And Jurkin, a 7-foot center originally from the Sudan, is paired with Elston and Jeff Howard.
"They've just told me to stay on top of everything," Ferrell said. "Academics and on the court, too. They've told us that Coach (Crean) was going to push us to see how tough we were. So we just had to fight through it and I felt like as a whole we all did that pretty well."
"They text me everyday and ask me what I'm doing," Jurkin added. "They want me to keep in touch with them, stay on top of school work and be on time."
Jurkin's time with Elston has been perhaps the most unique of the group. The senior from Tipton used Cook Hall to deploy an unorthodox strategy to help Jurkin catch the ball more consistently: playing catch with a baseball.
"In the beginning, he didn't really have the best hands, really had trouble catching the ball, and when he did, whether it be the sweat or he was just so worried about finishing and trying to impress people, he would lose the ball," Elston said of Jurkin. "So what I would do, I'd bring him in here and I just got to know him. I asked him questions, how it was like at home, while we were just throwing a baseball in Cook. I grabbed a ball, Jordan's glove and mitt and a ball, and we just threw pitch and catch. I don't really think he really realized I was trying to help him with his hands."
Ultimately, taking a hands on approach to mentorship and bringing the freshman is something the senior class hopes will be passed along as the program continues to grow.
"It's gonna be huge," Hulls said. "Because they'll have something to gauge what they can do the next years following, so they can teach the new freshmen coming in — how practices are supposed to be run, how you're supposed to prepare for practice, what you're supposed to eat, how you dress, what you wear, everything like that. They're just learning, and they may not know right now, but those are little things that'll help them out in the future."
Filed to: Derek Elston, Jordan Hulls, Peter Jurkin, Yogi Ferrell