Indiana's opening practice to air live on ESPNU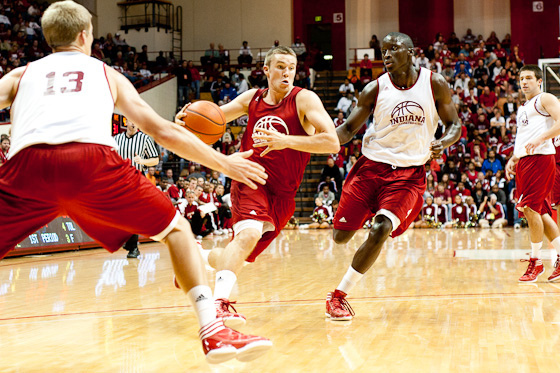 Hoosier Hysteria won't take place on the opening day of practice next month, but Indiana fans will still have the opportunity to watch their team as the season tips off.
ESPN announced today that Indiana's first practice will air live on ESPNU on Friday, Oct. 12 at 5:00 p.m. (Note: The practice will not be open for the public to attend.)
According to the official IU basketball twitter account, Tom Crean will wear a wireless microphone during the practice to give fans a rare look inside the program.
Here are the details, via the World Wide Leader's press release:
For the seventh year, ESPNU will tip off the nation's college basketball season with more than four hours of Midnight Madness coverage on Friday, Oct. 12 beginning at 5 p.m. ET. This year's programming will once again include both the men's and women's defending NCAA National Champions and eight teams in ESPN.com senior writer Andy Katz's Preseason Top 25.

The night begins with an in-depth look at what Katz put as the No.1 team in his super-early rankings last April, with ESPNU Midnight Madness: Indiana Practice at 5 p.m. on ESPNU. For the first time, the network will air a Hoosiers' practice live and in full with commentary from college basketball analysts Jay Williams and Dan Dakich.

ESPN3 will continue complete live coverage of seven school sites throughout the evening. ESPNU studio will provide fans with a "whip-around" look at highlighted teams coast-to-coast from 9 p.m. to midnight. The madness coverage will extend into its final hour on ESPNU's nightly entertainment show, UNITE, with its inaugural Midnight Madness Special.
ESPNU Midnight Madness 2012 highlights:

In-studio coverage and analysis provided by ESPNU host Dari Nowkhah and college basketball analyst Jay Bilas, Jalen Rose, Katz, as well as contributions from Dick Vitale.
On-site commentators will provide coverage of various elements including scrimmages, player introductions, skill and dunk contests, team skits, head coach and player interviews, along with season previews. ESPN analysts on-site: Stephen Bardo, Doris Burke, Jimmy Dykes, Sean Farnham, Fran Fraschilla, Len Elmore, Miles Simon, Tim Welsh and more.
No.4 Kentucky, No.6 NC State, No.14 Syracuse, No.11 North Carolina, No. 25 Missouri, Pitt and FSU will all be featured live and in their entirety on ESPN3 with additional highlights and analysis on ESPNU throughout the evening
In addition to the teams below, Katz will conduct interviews with various top teams' head coaches throughout the evening. Below, Katz on what to expect from the  ESPNU Midnight Madness: Indiana Practice–

"The remarkable turnaround for Tom Crean and the Hoosiers is now complete. IU is a favorite to be in the Final Four, win the Big Ten and have the player of the year in Cody Zeller. The pressure is immense but this team and staff have embraced the challenge.''
Filed to: ESPNU