IU makes an impact on 2014 forward Dwayne Morgan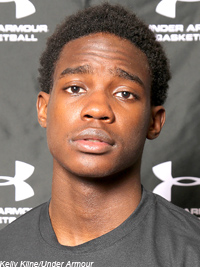 A couple years ago, a scholarship offer from Indiana may not have stood out from the rest for some recruits. Now, after a run to the Sweet 16 and a preseason No. 1 ranking, when coach Tom Crean makes a visit or an offer, they listen.
Crean continues to be active early in the fall recruiting period as he makes trips to see some of the nation's top recruits. On Friday, Crean offered a scholarship to Dwayne Morgan, a 2014 forward from St. Francis Academy in Baltimore, Maryland.
The stop at St. Frances by Crean to see Morgan certainly had an impact, further evidence that the Hoosiers continue to be viewed more and more favorably around the country.
"It was monumental. How often do you get the preseason No. 1 team in the country's head coach tell kids that they're a priority?" said Dwayne Wise, director of Morgan's AAU team, UA B'more Finest. "To see Tom Crean, it makes a difference, man. Indiana has a great history long before Tom Crean got there, but to see Tom Crean there, what kid would not consider that? That means a lot to a kid. I'm quite sure that's something that's going to stick in Dwayne's head."
Morgan, the 20th best player in the 2014 class according to ESPN.com, is an athletic 6-7 wing who is still growing. Morgan played center for most of his life, but moved to the wing when he and his coaches realized that was where he would likely play at the collegiate level.
Morgan's mother is 6-5 and played at Clemson, and Wise said Morgan is expected to grow to be "6-9 or 6-10." He missed several months over the summer due to knee tendonitis caused by his recent growth, but Wise said he is healthy now and should be fine for his junior high school season.
"He's a bona-fide wing that's still growing," Wise said. "He just passed his mom in terms of height, so it's scary. He probably has the prettiest jump shot of any wing forward in the country in terms of form. If he didn't fade, he might never miss a shot."
Wise said Morgan has developed more quickly than most kids he's been around during his coaching career. He said Morgan was still "raw" in April and he would give Morgan's ball-handling a '4' at the time. Wise said it has improved a great deal since then.
Morgan's recruiting is still "wide open" as schools continue to make their pitches to the rising junior. Morgan currently has offers from Georgetown, Florida, Florida State, Kansas State, Maryland, Missouri, among others, and North Carolina has also shown interest.
Wise said he expects Morgan to narrow his list in January, and he believes IU will likely be in Morgan's "top three or five."
"With kids, it's up and down," Wise said. "One minute, you're the flavor of the month, the next minute, you're not. It's all about consistency from this point on, who consistently recruits him and shows they really want him.
"He's just tapping the true potential. He's going to be a program-changing type kid at any program in the country, whether it's Indiana, Maryland, or wherever."
Related:
· 2014 Indiana Basketball Recruiting Board
Filed to: Dwayne Morgan