The Inside the Hall Mailbag: September 13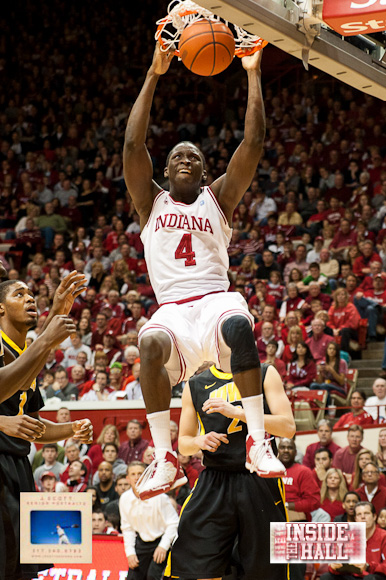 The Inside the Hall Mailbag is a collection of questions tweeted to us via Twitter (@insidethehall ) and sent to us via our Facebook page. Submit your questions and we'll answer as many as we can.
@TheReal_Butters writes: what do you think the actual rotation will be and possible lineups we may see? We are EXTREMELY deep!
Justin Albers: As far as the starting lineup is concerned, I expect Tom Crean to go with Yogi Ferrell and Jordan Hulls in the back court and Victor Oladipo, Christian Watford and Cody Zeller up front. I think Will Sheehey, Jeremy Hollowell, Remy Abell and potentially Hanner Perea will see substantial time off the bench.
Crean said he wants Derek Elston to be Brian Scalabrine for the Hoosiers, so that suggests he would get minutes this season. If Maurice Creek can stay healthy he might eventually work his way back into the rotation, but I don't see that happening at this point. Peter Jurkin will likely get a few minutes here and there to spell Zeller, if some of the reports we've heard on how well he played over the summer are accurate.
@HoosiersIn2012 writes: Any information on Hanner having his foot in a boot this summer?
Alex Bozich: We've had multiple emails that reported seeing Perea in a boot this summer and Justin saw him at the Tom Crean ProCamp last month and also spotted the boot. Indiana doesn't comment on injuries in the offseason unless they're significant and it doesn't sound like this one is.
In Crean's speech at the IU Auditorium last week, he said Perea has not been working out due to a lingering foot injury, but hoped he would be able to compete in the dunk contest at Hoosier Hysteria. If Perea is still out when Hoosier Hysteria tips off, it might be time to become concerned. For now, much like the injury Crean mentioned with Christian Watford, we'll just have to wait and see.
@cunningham88 writes: Since ND is in the ACC, we may play them in the B1G/ACC challenge. Will this affect the Crossroads Classic in the future?
Alex Bozich: It's too early to tell how Notre Dame's move to the Atlantic Coast Conference will affect scheduling for the Crossroads Classic. The Fighting Irish are not expected to leave the Big East until 2014 and Indiana will play Notre Dame again in the Crossroads Classic in 2013 and then Butler in 2014.
If the Crossroads Classic is continued beyond the 2014-2015 season, I would think there would need to be an agreement where the teams would couldn't meet in both events in the same season.
@ElBonko writes: is it just me or is Hollowell underrated by #iubb fans? Guy is a future pro and people talk about him like he's a role player
Alex Bozich: I'm not sure Hollowell is being underrated by anyone, but he may not have the impact he would have in previous seasons given the depth of talent returning for IU. In Crean's first couple of seasons, a talent like Hollowell would have easily started from day one. But on a team that's expected to contend for a national championship, he's probably going to be the seventh or eighth man. That's not a knock on Hollowell, it's more of an endorsement of the team Indiana will have.
I don't disagree with your assessment on Hollowell's future at the next level, but he certainly has a lot of work to do before achieving that goal. In a lot of ways, his game reminds me of Watford's in that he's very skilled, but not quite as athletic as some of the guys around the country who leave early for the NBA.
@Tannerain writes: What do you think of Crean's recruiting over the last year? Are we nearing any big commitments?
Alex Bozich: I'll get the second question out of the way first. Predicting when a commitment will happen is virtually impossible to do. As you saw this week with Semi Ojeleye and Marcus Lee, a commitment can happen quickly and a recruit can trim his list quickly. I do expect Indiana to add to the 2013 recruiting class and they're in very good position with a couple of 2014 recruits.
As for Crean's recruiting over the last year, I think he continues to put the program in a position to succeed for a long time. The commitments of Luke Fischer and Stanford Robinson were both excellent pick ups and proved that Indiana can go outside of the state and land top 100 kids. Indiana continues to recruit the state as hard as any program and should continue to land some of the best talent in the years to come. Given the fact that Indiana just had their first winning season since 2007-2008 and is a potential preseason No. 1 heading into this season, I believe Indiana's presence on the trail nationally should only grow stronger in the months to come.
Dave Yaraschefski writes: i know this has been hammered to death, but how do you choose between Yogi's playmaking and Jordy's court leadership as the primary point guard. (I'm less concerned with "starters" and more concerned with who's going to be playing when the game's on the line)
Justin Albers: That's an interesting question, Dave. I think a lot of it will depend on Yogi's development as a leader this year. There's no question he's more athletic than Hulls, and he's probably a better passer and defender as well. But when Hulls gets that look in his eye and is playing the way he can, Crean has to have him on the court.
As far as who will be the team's primary point guard, I think it has to be Yogi. He's more of a pure point guard than Hulls, and he's the team's long-term solution at the position. Offensively, Hulls fits perfectly as a shooting guard. He won't have as many ball-handling responsibilities, allowing him to run off more screens and get more open looks at the basket. Defensively, the Hoosiers will probably struggle to guard with both Yogi and Hulls on the court, but that's something they'll have to improve over the season.
It is certainly an interesting point you raise though about who is on the court at the end of the game. With Hulls' experience and Yogi's lack of experience, it may be something Crean changes on a game-by-game basis. It's hard to imagine the Hoosiers not having their senior leader on the court at the end of games, but it happened in the NCAA tournament game against VCU last year, and it's certainly possible it could happen at times this season.
Filed to: Twitter Mailbag