IU announces new priority seating system for students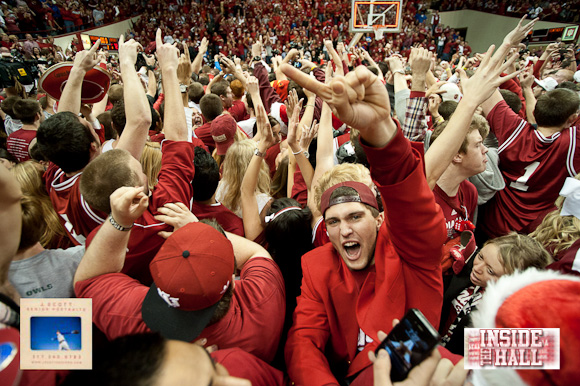 The Indiana Athletics Department announced a new priority seating system for student tickets late Monday and issued a release on how it will work on Tuesday morning.
Details are available below:
BLOOMINGTON, Ind. – After consulting with the leadership of the Indiana University Student Association (IUSA) and the Student Athletic Board (SAB), Indiana University Vice President and Director of Intercollegiate Athletics Fred Glass announced a new men's basketball student priority seating system to reward the most loyal student season ticket holders.

Under the new priority seating system, students earn -and have earned– priority points while they are in school by purchasing men's basketball and/or football season tickets each year. To reward the most loyal student fans, the 3900 students with the most priority points heading into the 2012-13 school year will be guaranteed the lower bowl seats for the highly anticipated North Carolina game on November 27, 2012.

"We have the biggest and best student-section in the country and without a doubt they provide us with a tremendous home court advantage," Glass said. "Our students have been with us in both good times and in bad, and we want to make sure that their loyalty is rewarded. We also want as many of our students as possible to get to experience the excitement of IU basketball."
IU students earn priority points while they are in school by purchasing men's basketball and football tickets. Students receive 5 points each time they purchase season tickets with a maximum of 10 points per year if they purchase them for both men's basketball and football season. Also new this year, students will have an additional opportunity to earn loyalty points by attending the games for which they have tickets, or making certain their tickets are used by other students. One point will be given for each game attended or each time an individual ticket is scanned at the gate. Only the original ticket holder can earn loyalty points for the use of their tickets. The more loyalty points a student earns, the better chance they have of obtaining the student tickets allocated for post-season tournaments (NCAA, Big Ten Tournament, etc.). Student point totals for purchased season tickets are automatically transferred to alumni point totals following the student's graduation from IU.

Under the new student priority point system, the more points a person acquires, the more opportunity individuals will have to attend premium games. In 2012-13, students or groups of students with the highest individual priority point totals or group average will be guaranteed one of the approximately 3,900 main level seats for the highly anticipated ACC/Big Ten Challenge game against North Carolina on November 27, 2012. While all IU home games are exceptional, premium games include highly-ranked opponents, select national programs, in-state rivals, and special event games such as an ESPN College Game Day game. Students may also purchase break game tickets for $15 per game and obtain priority seating.

Students may sit together in groups of two to eight people. Priority point totals for the group will be based on the average of the entire group. Thus the average figure will dictate the allocation of premium games and seating for the entire group. In addition to the new student priority point system, games will be allocated to students according to the traditional premium game and seat distribution system. All student season ticket holders will have an opportunity to see the Hoosiers match-up against both non-conference and Big Ten opponents in 2012-13. All students who purchase season tickets will get five games in the lower bowl and five games in the balcony.

"We really appreciate IU Athletics reaching out to us to find a way to reward loyal students," said IUSA President Kyle Straub. "We think the loyalty point system is a great incentive for students to attend all the games," added IUSA Vice President Pat Courtney.

Returning to a historical practice at IU since Assembly Hall opened in the early 1970s, more student season tickets were sold than the actual number of student seats available per home game. This return to tradition allows more students to experience the tradition and pageantry of IU men's basketball. Since the early 1970's IU has consistently had the largest student-section in the country at 7,800. This year, 12,400 student season tickets were sold. Though the demand exceeded the 12,400, IU Athletics capped it at that number to make sure that students would have the ability to purchase men's basketball and football season tickets on their bursar bills. The bursar's office needed a specific number by June 29th so they could have the necessary amount of time to distribute billing information to students and their families. Moving forward, IU Athletics plans to work with the bursar to see if there are other options in order to sell as many tickets as students demand rather than artificially capping at a specified number.

"We are thrilled that IU Athletics was willing to work with students to develop both a priority point and ticket exchange system," said SAB President Chris Port. "It means a great deal to have our input valued."

Because students are limited to the number of games they can purchase through their season ticket package, SAB's Crimson Guard, the official student section of IU Men's Basketball, provides an easy way for students to exchange or purchase student tickets for games they may not have received as part of their season ticket allocation. Visit Facebook.com/The-Crimson-Guard or follow @iucrimsonguard for details.

"I would like to thank the leadership of IUSA and the SAB for their significant contributions to developing this new priority point system -as well as the exchange program–in a way that will best and most fairly serve the needs and interests of our students," Glass said.
Filed to: IU student section