Notebook: Hoosier Hysteria to be held October 20?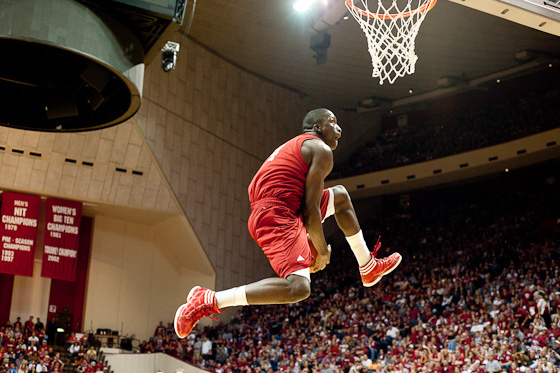 As you may have seen on our Twitter account early Sunday morning, the Indiana Marching Hundred schedule for 2012 shows Saturday, Oct. 20 as a tentative date for a "midnight madness" event at Assembly Hall.
Historically, Hoosier Hysteria has been held on the opening weekend of practice, but the chatter we've been hearing has the event being pushed to the second weekend of practice. The date on the Marching Hundred site seems to corroborate that information.
· Lee visits Westwood: Marcus Lee, who is scheduled to take his official visit to Bloomington on Oct. 20, took an unofficial visit to UCLA over the weekend according to Evan Daniels of Fox Sports Next.
· Elite 2015 guard adds offer: Hyron Edwards, one of the top 20 prospects nationally in the 2015 class from East Chicago Central, picked up his third offer over the weekend on an unofficial visit to Illinois.
Edwards also holds offers from Indiana and Purdue.
· Williams targeting November decision: 2013 Oak Hill Academy forward Troy Williams is planning to decide by the early signing period.
In an interview with The Daily Press, Williams says he's still considering Kentucky, North Carolina, Alabama, Louisville, Memphis, Indiana, Ohio State, Arkansas, South Carolina, Georgia and possibly Kansas.
· Vonleh still wide open: In an interview with his hometown paper, The Eagle Tribune, 2014 forward Noah Vonleh reiterated that he has no leader in his recruitment.
"I'm still wide open, letting every school get in that's trying to recruit me," Vonleh told The Eagle Tribune. "I'll figure out what I'm trying to do when I go visit the schools."
Vonleh added that he's looking for a school that fits him academically and gets him ready for the next level basketball wise.
· No word on Patterson: There's still no final resolution on where Ron Patterson will play this fall, but a decision should be known soon as many of the four-year schools he's considering are beginning the academic semester today.
If Patterson elects to go the prep school route, Brewster Academy in Wolfeboro, New Hampshire seems to be the destination.
· Cameron denies reports of trimmed list: 2013 Hudson Catholic (Patterson, New Jersey) forward Reggie Cameron has not cut his list of schools, despite reports to the contrary. Cameron, the No. 65 prospect nationally according to ESPN.com, tweeted Saturday "I did not cut my list!"
· Hoosiers attend rally for freshmen: Indiana Social Media Coordinator and Assistant Director of Media Relations Shana Daniels has a few photos of Cody Zeller, Austin Etherington, Yogi Ferrell, Jeremy Hollowell and Hanner Perea speaking at Friday's Spirit and Traditions event at Assembly Hall welcoming freshmen to campus.
Filed to: Hoosier Hysteria, Hyron Edwards, Marcus Lee, Noah Vonleh, Troy Williams