Indiana to host Michigan for ESPN's College GameDay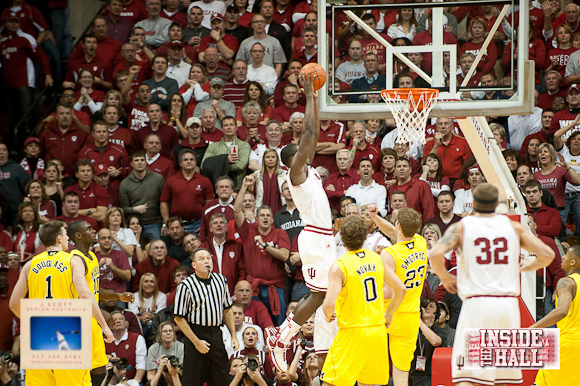 ESPN announced the locations for the upcoming season of College GameDay this morning.
The basketball edition of the show will make eight campus stops, one of which will take Rece Davis, Jay Bilas, Digger Phelps and Jalen Rose to Bloomington.
GameDay will be at Assembly Hall on Saturday, February 2 for live broadcasts at 10 a.m. ET and 8 p.m. ET and the Hoosiers will then host Michigan at 9 p.m. ET on ESPN.
The complete release from ESPN is available after the jump:
ESPN's College GameDay Covered by State Farm – the eight-week Saturday morning and evening college basketball studio program originating from the site of ESPN's Saturday Primetime Presented by DIRECTV telecast – returns for its ninth season beginning Saturday, Jan. 19 from the campus of Butler University in Indianapolis. The first hour begins at 10 a.m. ET on ESPNU, continuing at 11 a.m. on ESPN with a one-hour edition at 8 p.m. on ESPN (except Jan. 26). The Primetime game-of-the-week series will generally air at 9 p.m.

New to the schedule this year is a split site for the eighth and final week on March 9. College GameDay will begin the morning at 10 a.m. in Washington, D.C., at the site of the Syracuse at Georgetown game (noon, ESPN). The crew will then travel to Chapel Hill, N.C., for the evening show at 8 p.m., prior to the start of the Duke at North Carolina matchup (9 p.m., ESPN).

For the second straight year, a "flex pick" option is on the schedule for the Feb. 9. College GameDay will stop at a BIG EAST campus – either South Bend, Ind. for the Louisville at Notre Dame game or Cincinnati for the Pittsburgh at Cincinnati matchup. The game selected will be part of the Saturday Primetime schedule, while the other game will air at 6 p.m. on ESPN or ESPN2.

Also new this season, Jalen Rose joins the College GameDay crew, replacing Hubert Davis behind the desk. Rose will be a featured analyst on GameDay, as well as additional college basketball studio programming and games. Rose has been ESPN NBA analyst, primarily as part of the network's studio coverage since 2007, and will continue NBA studio analysis during the Playoffs.

For the ninth year, Rece Davis will serve as host for College GameDay, and will be joined by analysts Jay Bilas, Digger Phelps and Rose to preview all the day's action and discuss the biggest storylines in college basketball.

Highlights:

— Four of the eight sites GameDay visits in 2013 will be first-time hosts: Butler, NC State, Georgetown and Cincinnati (possible flex pick)

— Fifteen schools on the Saturday Primetime schedule are top 25 picks in ESPN.com's men's preseason top 25 poll: No. 1 Indiana, No. 2 Louisville, No. 3 Kentucky, No. 4 Kansas, No. 5 Michigan, No. 6 NC State, No. 7 UCLA, No. 10 Syracuse, No. 13 North Carolina, No. 15 Duke, No. 17 Arizona, No. 19 Notre Dame, No. 20 Gonzaga, No. 21 Texas and No. 24 Missouri, plus the addition of sleeper teams Butler, Pittsburgh and Cincinnati

— GameDay returns to Rupp Arena on Feb. 23, home to the show's largest crowd at 22,144 fans on Feb. 10, 2010, for a showdown between SEC foes – No. 3 Kentucky and No. 24 Missouri

— GameDay will be making a record fifth stop on the campus of Kansas on Feb. 16 and North Carolina will be playing in a game at a GameDay site for a record 10th time with its two appearances in 2013 – Jan. 26 and March 9

— Indiana (Feb. 2) and UCLA (March 2) will both be hosting GameDay for only the second time and the first since 2008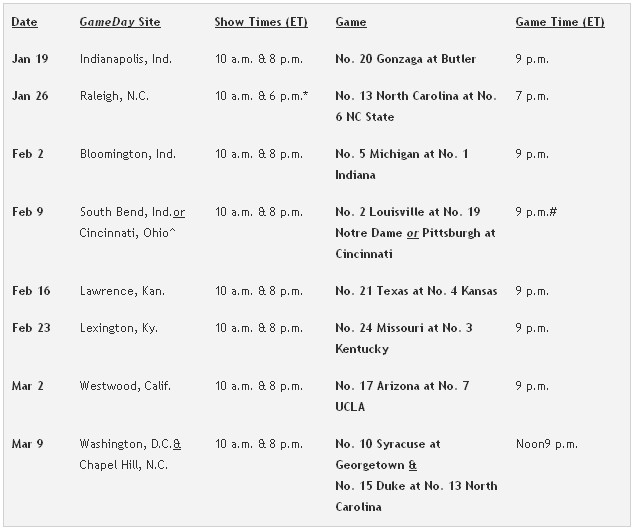 Filed to: ESPN College GameDay, Michigan Wolverines