Sheehey, Lyles participating in adidas Nations Global 2012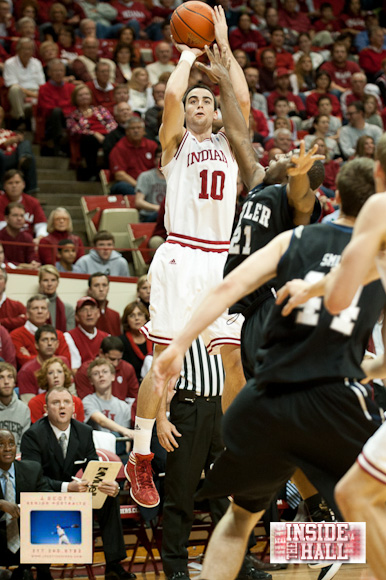 Indiana junior forward Will Sheehey and 2014 commit Trey Lyles are in Orange County this weekend participating in adidas Nations Global 2012, which is the final event of the summer for adidas.
Sheehey is one of 30 college counselors and is joined by Deshaun Thomas of Ohio State as the only two representatives from the Big Ten. Among the other notable college counselors: Wayne Blackshear, Gorgui Dieng and Peyton Siva of Louisville and Duke's Mason Plumlee.
There will be two scrimmages each day featuring the counselors according to the schedule released.
Lyles is one of the top players on the USA 2014 Navy roster, which also features Chicago Whitney Young big man Jahlil Okafor. Paul Turner, a 2014 guard from St. Joseph's, has received some interest from Indiana and is also on the 2014 Navy roster.
2014 prospects Cliff Alexander, Noah Vonleh and Theo Pinson will be teammates on the USA 2014 Red roster.
Other prospects who have received interest from Indiana who will participate include Milik Yarbrough (USA 2014 Red) and Jordan Mathews (USA 2013 Blue).
Also included in the adidas Nations release is the participation of NBA players (Arron Afflalo, Darren Collison, Nolan Smith) and former Indiana coach and Houston Rockets assistant Kelvin Sampson, who will assist with "professional on-court coaching and training, as well as off-court instruction on nutrition, leadership, discipline, philanthropy and global interactions."
The championship, which will be played at Long Beach City College on Monday, Aug. 6, will be broadcast live at 8PM ET on the CBS Sports Network.
The complete schedule is available here.
Filed to: adidas Nations, Trey Lyles, Will Sheehey