Q & A: Luke Fischer recaps July, talks improvement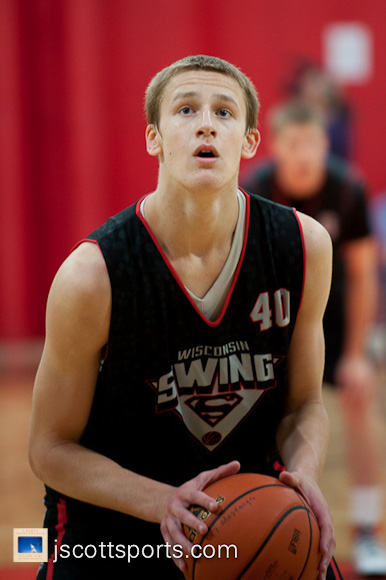 It was a productive spring and summer for 2013 Indiana commit Luke Fischer as he continued his ascent in the national rankings and also won a lot of games with his Wisconsin Swing teammates on the AAU circuit.
Inside the Hall caught up with the 6-foot-9 big man from Germantown, Wisconsin to get his thoughts on his final AAU season, his improving game, how an injury last high school season helped improve his left hand and much more.
The complete transcript of our conversation with Fischer is available below:
Inside the Hall: Talk about how July went for you individually and also for the Wisconsin Swing.
Luke Fischer: I thought it went well for me. I thought I played really well. We had the three tournaments where I thought I played some of the best basketball I have in a long time. As a team, I thought we played well sometimes, but at other times we kind of struggled. That kind of showed with this last tournament (The Fab 48 in Las Vegas). We only got to the Sweet 16 and I thought we should have gotten a lot farther. It was kind of rough at the end.
ITH: You mentioned playing some of your best basketball, what specifically do you feel you were doing well?
LF: I'm more confident with the ball in my hands, more patient to set up for a move. I'm attacking the rim a lot harder and I'm not settling for layups, I'm going in hard for dunks or and-ones. I thought defensively I played pretty well blocking shots and just altering shots as well. My outside shot was also a lot better. I worked a lot on that in June with my high school team. That showed a little bit the past few months.
ITH: Back in the high school season, you had the right hand injury and talked at the time about how it could potentially help you develop your left hand. How has that progressed and have you seen any benefits with your left hand from having that injury?
LF: It's actually helped a lot. I'll go to my left hand almost as much as I'll go to my right hand now. Just with jump hooks on the left side of the basket as well. It just makes it that much harder to defend me and makes it that much easier to score.
ITH: Obviously, you've gotten stronger over the past year, but what can you do between now and the high school season and between now and your arrival in college to continue to make strides with your strength? Do you have any specific goals on what you'd like to be able to do strength wise?
LF: I don't have any goals set yet, but I'm sure I'll come up with some pretty soon. Just getting in the weight room a lot, that's what helped me last year. Playing volleyball this next fall will also help me a lot. That helped me a lot last year.
ITH: How do you feel playing volleyball helps with basketball?
LF: I think it helps me a lot with rebounding and getting that second jump in if you mistime the ball. Or even if you miss a layup, you can just go right back up for a tip-in. That second quick hop that you get from volleyball is something that really translates to basketball as well.
ITH: Talk about your visit plans to Bloomington for the fall. Will your next visit be your official or will you make it down for any football games?
LF: We're actually hoping to get down there a lot more than we have been. Hopefully we get down there at the end of August for an open gym. I'd like to play with the guys. That'd be a lot of fun. And then after that, hopefully a football game. We're planning on going to Hoosier Hysteria for sure. I think that's a must. And then I don't know when I'll go for the official visit, but I definitely want to go with all of the other guys that have committed and kind of make it a team thing.
ITH: You got a chance to play against Devin Davis and Collin Hartman back in the spring in Indianapolis. What was your impression of both of those guys?
LF: Both of them are good. Devin's so athletic and such a good defender. He can just jump out of the gym. Collin, he can knock down any shot. I think our class is going to be real solid.
ITH: As far as your high school season coming up this winter, you've set the bar high with what you accomplished last year. What are your goals for the upcoming season as a senior expected to lead the team?
LF: We just found out recently that we're staying the No. 1 team in the state for preseason rankings. I don't think that anyone should be able to beat us again. I think we should have another perfect season, but that's kind of just the seniority talking. We have real good talent. Four of our five starters are going to have Division I scholarship offers, so we're going to be tough to beat.
Filed to: Luke Fischer