2013 forward Reggie Cameron talks Indiana offer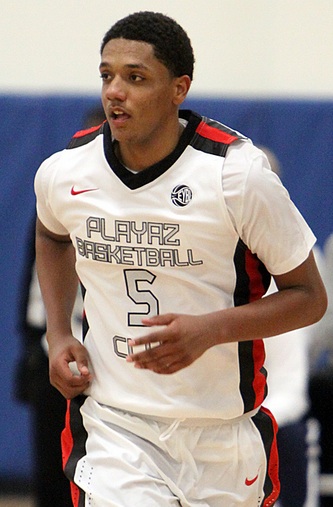 Indiana's pursuit of Hudson Catholic (NJ) forward Reggie Cameron began in June and according to Cameron, last week the Hoosiers offered the 6-foot-7 standout a scholarship in a telephone conversation with his father, Reggie Sr.
Cameron, ESPN.com's No. 66 player nationally in the 2013 class, now holds offers from 16 schools.
"I was real excited," he said of the IU offer. "Indiana basketball has a rich history. Last year they had a phenomenal team. Everybody's coming back. They're a favorite to win the national championship this year."
In five games at the Nike Peach Jam, Cameron averaged 13.8 points and 3.8 rebounds for the the NJ Playaz Basketball Club. As a junior at Hudson Catholic, he averaged 20.1 points, 10.1 rebounds and 2.4 assists per game and was named the North Jersey Player of the Year by The Star-Ledger.
Cameron told Inside the Hall he's heard from both new Indiana assistant Kenny Johnson and Tom Crean and also from one his closest friends on the AAU circuit who also happens to be committed to the Hoosiers.
"Stanford Robinson, he's headed to Indiana," Cameron said. "We're real close and talk all of the time. They're definitely headed in the right direction. He wants to raise some banners at Indiana and they're trying to get the pieces together to do it."
The next step in the process for Cameron is to narrow his list of schools to a more manageable number and begin taking visits. Thus far, he's only been to three local schools.
"Right now, I'm considering pretty much everything, but I'm going to narrow my list down to probably between seven or eight schools within the next couple of days," he said. "The only schools I've gotten a chance to visit are the local schools — Seton Hall, Rutgers and Villanova. So I'm probably going to start traveling and taking visits within the next week or two weeks."
One of those visits will likely be to Bloomington, although he was non-committal on whether it would be one of his five official visits or an unofficial trip.
"After I cut my list down to seven, I'll probably be able to tell you that," Cameron said. "Either way, I'm definitely going to get to Indiana."
Known as one of the top shooters nationally in the 2013 class, Cameron said he used the spring and summer to diversify the ways he contributes.
"I like using my shot to get other teammates involved. I can see over the defense well and I pass it really well for a player my size," he said. "I've just been working on utilizing the pump fake to get some drives and dribble moves toward the rim. I've been working on my footwork so I'm a better perimeter defender."
While he's only taken three visits so far, Cameron already has a pretty clear idea of what he'll be looking for in the school he'll attend.
"I'm just looking for a place where I can win a lot of games, get a chance to win a national championship every year, grow individually as a player, get a good education and be comfortable," he said.
(Photo credit: 247Sports)
Filed to: Reggie Cameron