Former Indiana guard Neil Reed dies at age 36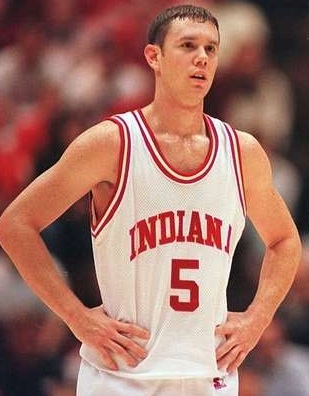 According to multiple reports, former Indiana guard Neil Reed died on Thursday at the age of 36.
The New Orleans Times-Picayune reports that Reed suffered a massive heart attack on Wednesday and passed away earlier today in Nipomo, California.
Reed played three seasons at Indiana and played in a total of 94 games, starting 72. A native of Metairie, Louisiana, Reed arrived at Indiana for the 1994-1995 season.
He was a McDonald's All-American at East Jefferson High School.
Reed averaged 9.3 points, 3.0 assists and 2.3 rebounds before leaving the team following his junior season. He played his entire freshman season with a separated shoulder, averaging 5.9 points in 30 games.
The Louisiana native finished his collegiate career at Southern Mississippi, where he averaged 18.1 points as a senior.
His 938 career points rank 49th all-time on IU's scoring list.
Three years after leaving Indiana, Reed accused former coach Bob Knight of choking him during a practice, which Knight denied until video later surfaced.
More recently, according to The Times-Picayune, Reed was a teacher and coach at Pioneer Valley High in Santa Maria, California.
Reed is survived by his wife, Kelly, and daughters Marley and Presley.
Twitter reaction to Reed's passing:
We are shocked and saddened by the death of former Hoosiers basketball player Neil Reed. Our deepest sympathies go out to his family. #IUBB

— Indiana University (@IUBloomington) July 27, 2012
Prayers go up for Neil Reeds family and children. No matter what happens, I'd never wish an untimely death on anyone. Children lost their

— A.J.Guyton (@ajguyton) July 27, 2012
Father, wife lost her husband and a mother & father lost their son. There are no winners in this. IU family, be so kind to send up prayers..

— A.J.Guyton (@ajguyton) July 27, 2012
The shock of the passing of Neil Reed and the sadness we feel for his wife, two daughters and entire family is overwhelming. Tragic news.

— Tom Crean (@TomCrean) July 27, 2012
Neil was building a career in coaching and had even sent me his coaching philosophy book a few years back to proof. Pray for his family.

— Tom Crean (@TomCrean) July 27, 2012
In shock over the death of Neil Reed.Passionate, good guy who loved his daughters more than anything. Thx for memories. RIP #IUbasketball

— Sage Steele (@sagesteele) July 27, 2012
(Photo credit: Indianapolis Star)
Filed to: Neil Reed