Recruiting Notebook: Lyles, Robinson, IU targets at LeBron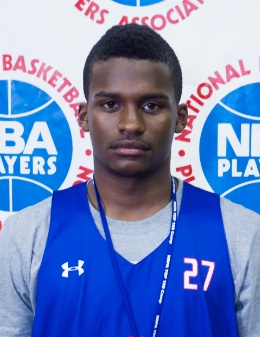 2013 commit Stanford Robinson, 2014 commit Trey Lyles and several 2013 and 2014 prospects with Indiana offers or interest are currently participating at the LeBron James Skills Academy in Las Vegas.
According to the camp rosters, here are height, weight and wingspan measurements for each player:
Lyles: 6'9.5 / 228 / 7'0
Robinson: 6'3.5 / 187 / 6'8
Semi Ojeleye: 6'6.5 / 217 / 6'9.5
Kennedy Meeks: 6'9.5 / 297 / 7'0
JaQuan Lyle: 6'4.5 / 199 / 6'8
D'Angelo Russell: 6'4 / 175 / 6'8.5
Cliff Alexander: 6'8 / 240 / 7'2
Kuran Iverson: 6'8.5 / 202 / 7'0
Theo Pinson: 6'5.5 / 181 / 6'10
Marcus Lee: 6'10 / 199 / 7'1.5
Scouting notes, recruiting updates
· Robinson, Indiana's most recent commit, drew praise from both Jerry Meyer of 247Sports and Jody Demling of The Louisville Courier-Journal for his ability to get the ball to the basket on Sunday.
· Hoopniks.com caught up with Iverson, who said Florida is recruiting him the hardest and also mentioned Arizona, Connecticut and Syrcause. Meyer noted that Iverson hopes to hear from Kentucky.
· Lee, who was one of the biggest risers nationally in the spring, told Demling he's still being recruited hard by Indiana and that he hopes to narrow down his list soon. Lee had a strong showing Sunday night according to Josh Gershon of Scout.com.
· Pinson, who holds an Indiana offer and took an unofficial visit last month, drew the praise of Dave Telep of ESPN.com for his unselfish play and smart decision making.
· Josh Paunil of the National Recruiting Spotlight reports the Ojeleye, who took an unofficial to Bloomington in late June, plans to cut down his list after July.
Anya, Jones help lead USA to Gold at FIBA U17 World Championship
Indiana targets BeeJay Anya and Tyus Jones became gold medalists on Sunday as the USA Basketball U17 team won a gold medal at the FIBA U17 World Championship by defeating Australia, 95-62.
Jones averaged 8.5 points, 5.4 assists and 2.9 rebounds in 20.4 minutes per game and Anya averaged 6.3 points and 3.8 rebounds in 11.4 minutes per game.
You can listen to Anya's reaction to the win over Australia here.
Filed to: BeeJay Anya, Stanford Robinson, Trey Lyles