Increased demand leads IU to cap student ticket requests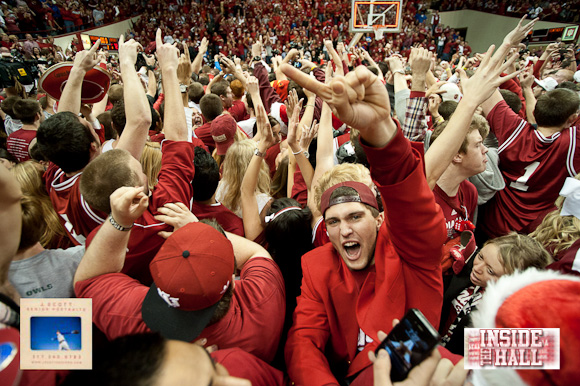 Overwhelming demand for student tickets for the upcoming season has led to a cap on student ticket requests, the IU Athletic Department announced on Thursday afternoon. The details, in the form a release from IU, follow:
Bloomington, Indiana — Indiana University Vice President and Director of Athletics Fred Glass has announced that 9,400 students have already placed orders for men's basketball season tickets and the athletic department is projecting that number to continue to increase throughout the summer.

"Following the team's incredible performance this past season, I am thrilled to see student ticket demand returning to the same levels I experienced when I was a student at IU," said Glass. "There is not a more exciting place to watch college basketball than Assembly Hall, and it is IU students that create our home court environment that is unmatched anywhere in the country."

Projections for student tickets are expected to exceed 10,000 in the next few weeks. The department has announced that it will cap the number of tickets sold at 12,400 to allow students to receive tickets to a minimum 10 of the 16 games that occur during the academic calendar. IU has a long-standing tradition of overselling its student section and rationing the number of games each student receives.

"Indiana University has the largest student section in the country at a whopping 7,800," added Glass.

Comparison student section sizes at other schools are: 5,152 at Purdue; 6,000 at North Carolina; 4,500 at Kentucky; 3,100 at Michigan State; 2,300 at Louisville and 1,200 at Duke.
"Indiana Basketball is an important part of the IU college experience and we want as many students as possible to have a chance to experience it live in Assembly Hall," Glass noted.

"For the last several years, student tickets sales have continually increased, but have not exceeded the allotted space of 7,800 students per game. For the first time since the 2008 season, IU will be exceeding that allotment."

"Our student fan base is the best in the country," said IU Head Coach Tom Crean. "Our fans and former players have supported us from the moment we arrived and are a big reason why the program is where it is today."

Student ticket holders do not receive tickets to games that occur during the semester break between December and January. However, IU Athletics has indicated that students in town during the break will be able to purchase tickets at the student rate once those tickets become available.
Filed to: Student section