Edwards staying grounded in the midst of attention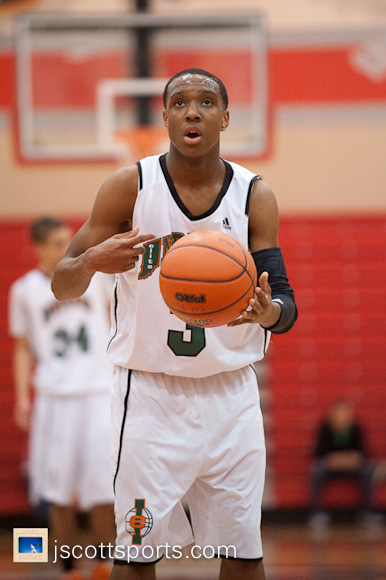 It was a breakout spring for 2015 East Chicago Central point guard Hyron Edwards.
Among the accolades collected by Edwards included MVP honors at the adidas Exclusive VIP Run in Las Vegas, an invitation to participate in adidas Nations and a top 15 ranking nationally in his class by ESPN.com.
While all three feats impress, something else about Edwards has caught the eye of East Chicago Central coach Abe Brown: his humility.
"He does everything he's supposed to do. I think the attention that's coming to him is well deserved due to the fact that he does put in the time to get that kind of attention," Brown told Inside the Hall at the USSFA Shootout in Indianapolis. "He's very humble. His father and mother keep him very humble. He's got great parents that are always talking to him, making sure he understands to do what is right."
The USSFA Shootout was an opportunity for the East Chicago staff to get a close look at the rapid progression of its star player since the conclusion of the high school season.
Two areas of improvement stood out in particular according to Brown.
"He's getting a lot better in every area, especially his defense," Brown said. "We've been on him about picking up the defensive end and that's really going to carry him over the top of how great of a player he can be in high school if he continues to work hard on his defense. And his court vision has gotten better. He can see the court real well in the open court."
The attention will only intensify as Edwards plays in front of college coaches with Indiana Elite for 15 days over three evaluation periods in July.
Indiana and Purdue have already offered scholarships and Missouri, Illinois, Michigan, Michigan State, Northwestern and Xavier are just some of the schools actively recruiting him.
Brown said two things that college coaches love about Edwards aren't necessarily traits you can teach.
"One coach told me that what sticks out, and I'll always remember this, is that he always looks like he's having fun out there," he said. "Coaches want a kid that always look like he's having fun and always trying to work hard to help himself and his teammates.He blends in well with his teammates. We think he overpasses the ball because he's always looking out for his teammates."
Filed to: Hyron Edwards