The Inside the Hall Mailbag: June 20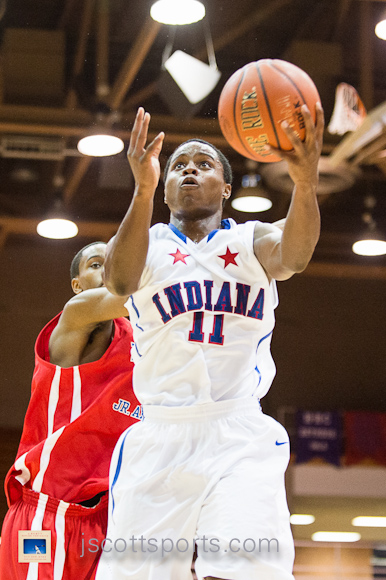 The Inside the Hall Mailbag is a collection of questions tweeted to us via Twitter (@insidethehall ) and sent to us via our Facebook page. Submit your questions and we'll answer as many as we can. Now, onward … 
@scottbush8 writes: Of all the returning players who do you think will benefit the most with the new class coming in?
Alex Bozich: It may be hard to believe because of how effective he was as a freshman, but I think Cody Zeller will benefit the most as a result of the new class. And that's because the new class includes Yogi Ferrell, who has an excellent chance to be one of the top point guards in the Big Ten and the country next season.
The reason Zeller stands to benefit the most is that Ferrell will create easier scoring opportunities in both half court and transition situations. Ferrell's ability to get into the lane will result in lobs and dump offs for Zeller. And Yogi's speed and ability to pass in the open court will mesh well with Zeller, who runs the floor as well as any big man.
@FWTykees writes: With #iubb playing so many in-state schools lately how soon or if ever do you see them coming to ft. wayne to play at ipfw?
Alex Bozich: At IPFW? No. It's rare for a major conference school to go on the road to play a mid or low major opponent and that's exactly what Indiana going to IPFW would be. The Hoosiers did go to Evansville last year, but that trip was mainly due to the opening of The Ford Center, which has 10,000 seats. And IU got two home games with Evansville in exchange for last November's game. A trip to any non-conference opponent that TV isn't behind is extremely unlikely to happen.
@LTTelamon writes: What do you think Peter Jurkin's ceiling is this year? If he were to make a significant leap, could he be a rotation factor?
Alex Bozich: I haven't seen Jurkin play in person since the summer of 2010 before he committed to Indiana, but the video that has surfaced of his final high school season shows he's made strength gains in his upper body. His primarily role, at least for next season, would seem to be in rebounding, providing energy and blocking shots.
Given what the Hoosiers are returning and the other incoming players who will likely see time, it seems unlikely that Jurkin would be a regular part of the rotation. The minutes opening at his position would be Tom Pritchard's, who played just 9.9 per game a season ago. Derek Elston and Hanner Perea are also going to be battling for a piece of those minutes, so it's definitely an uphill battle for Jurkin to become a regular in the rotation.
Jon Robling writes: Is this the last chance for Mo Creek? And is he expected to practice on schedule?
Alex Bozich: From what Tom Crean told us a couple of weeks ago at Huber Farms for the IU Tailgate Tour, Maurice Creek is on a "long and tedious" road to recovery, but isn't behind schedule. Creek seemed to be moving around pretty well towards the end of the season, but drills versus running up and down in the Big Ten are two totally different situations.
If Creek is able to return and play a part in what many are expecting to be a magical season in Bloomington, it would be one of the feel good stories in all of college basketball — deservedly so given what he's been through since the fantastic start to his career.
@ElBonko writes: What are the odds that Dipo goes pro after his junior year? 75%?
Alex Bozich: It's impossible to put a percentage on Victor Oladipo's prospects for turning pro when he hasn't played a minute of his junior season, but his play last season, especially late, put him on the NBA radar. He's listed in the top 50 on a couple of draft boards I've seen for 2013, but a lot will be determined by his offseason improvement (most importantly improving his perimeter shot) and what Indiana is able to accomplish next season.
@Collin_OConnor writes: Other than Yogi, which freshman do you think will have the biggest role on next year's team?
Alex Bozich: Jeremy Hollowell in terms of playing time, but I think Perea and Ron Patterson could also play big roles. Hollowell's ability to score the ball in a variety of ways and rebound make him a candidate to play right away. His skillset for his size at 6-foot-8 is very diverse.
As for Perea and Patterson, both guys can carve out important roles because both guys are long and active on defense. Perea can block and affect shots around the rim. Patterson's wingspan is incredible and he's very good defending on the ball. Neither guy is going to put up big numbers offensively given that IU's top five scorers are returning, but if the Hoosiers want to win the Big Ten, the defense must improve. Both players can help in that regard.
Tyler Trowbridge writes: What would be ITH's preseason top 5?
Alex Bozich: 1. Indiana, 2. Louisville, 3. Kentucky, 4. UCLA, 5. Michigan. Subject to change many times before the season tips off, of course.
Filed to: Twitter Mailbag