APR score continues to rise under Crean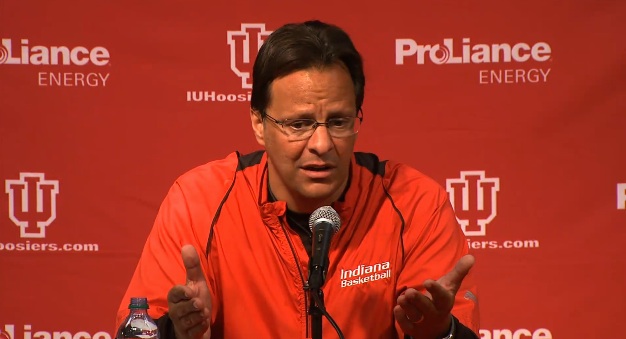 Indiana basketball's multi-year Academic Progress Rate (APR) score continues to rise under Tom Crean, according to data released Tuesday by the NCAA. (APR scores for every NCAA institution are available here.)
Crean inherited a multi-year APR score of 866 from Kelvin Sampson and thanks to single year scores of 975 in 2008-2009, 1000 in 2009-2010 and 1000 in 2010-2011, the latest multi-year score now sits at 952.
Under new NCAA rules, the Hoosiers would have been declared ineligible for postseason play with a score of 866.
Ten men's basketball teams, including Connecticut, were below the threshold of 900 now required to participate in postseason play. Programs with a cumulative score of under 925 can also incur other penalties.
The full release detailing the latest APR scores for all sports programs at IU is available after the jump.
With seven teams earning a perfect 1,000 APR for the 2010-11 academic year, Indiana University's 24 sports comfortably exceed NCAA required standards according to the NCAA's most recent multi-year Academic Progress Rate report.

The seven programs to earn a perfect score for 2010-11 were men's basketball, men's cross country, men's golf, men's swimming and diving, women's swimming and diving, women's tennis and women's water polo. Men's golf, women's tennis, men's track and field and women's track and field (tied) all have the top multiyear mark among their peers in the Big Ten conference.

"I want to congratulate our student-athletes, coaches and staff for embracing this high priority for our department," said IU Vice President and Director of Athletics Fred Glass. "These are successes of which all of Hoosier Nation should be proud of."

Last week, the NCAA also recognized the IU baseball, men's golf, and women's tennis programs with an APR Public Recognition Award which is given to high-performing teams who rank among the top ten percent in the country in their particular sport.

The Academic Progress Rate is a real-time measure of eligibility and retention of student-athletes competing on every Division I sports team.

Noting The APR

• The most recent APR scores are based on a multi-year rate that averages scores from the 2007-08, 2008-09, 2009-10 and 2010-11 academic years.

• Under the revised penalty structure, the Division I Board of Directors has set a cut score of 900 (out of 1,000) as a threshold for teams to meet or face possible sanctions. That cut score will increase to 930 in a few years. An APR of 930 projects a 50 percent Graduation Success Rate (GSR).

• The goal of the NCAA's academic performance program is improvement, not punishment. Not only does the program ensure accountability for student-athletes, teams and institutions, but also it provides fairness by considering individual circumstances per team and school.

• This year marks the eighth year of APR data for most teams. The APR is a multi-year rate based on the most recent four years of data.

Baseball 992
Field Hockey 994
Football 964
Men's Basketball 952
Men's Cross Country 993
Men's Golf 1,000
Men's Soccer 989
Men's Swimming 974
Men's Tennis 953
Men's Track 992 (Indoor and Outdoor)
Wrestling 970
Softball 979
Women's Basketball 981
Women's Cross Country 987
Women's Golf 992
Rowing 983
Women's Soccer 995
Women's Swimming 997
Women's Tennis 1,000
Women's Track 991 (Indoor and Outdoor)
Water Polo 986
Filed to: Academic Progress Rate