2014 forward Noah Vonleh talks IU, improving game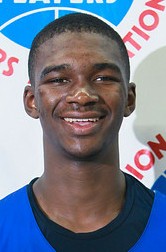 CHARLOTTESVILLE, Va. — Noah Vonleh (Haverhill, Ma.), the No. 1 power forward in the Class of 2014 according to ESPN.com, said he wants a program that develops players and helps them eventually get to the NBA.
He sees that in Indiana.
"They are starting to have a lot of guys going to the NBA soon," Vonleh told Inside the Hall. "Coach Crean said they love to work out their players. They are in the gym all the time and work on different stuff to get them ready for the next level, so that sounds pretty good."
The 6-foot-8 power forward said the Hoosiers are among the schools pursuing him hardest, along with Arizona, Boston College, Providence and Connecticut.
He received a text on Friday morning from a member of the IU coaching staff.
"They have some good players that could possibly go to the NBA," he said of IU. "They develop players over there to get them ready for the next level."
Vonleh has been one of the most impressive players at the NBPA Top 100 Camp, held this week at the University of Virginia. He's attacked the basket hard and has been just as effective from beyond the arc.
"My AAU coach, he wants us to play hard all the time," Vonleh said. "It comes from there. I just like playing hard and competing."
Vonleh – who said he has no visits planned at this time – is averaging 9.8 points and 5.8 rebounds through four games of the camp.
Despite his lofty national ranking, Vonleh believes there is plenty of room for growth in his game.
"I need to get my ballhandling better, keep getting my shot better, keep rebounding and work on everything. Develop a midrange game, too," he said. "I've been able to shoot threes for a while, but it's getting better. I'm going to keep working on it."
Filed to: Noah Vonleh