Indiana makes a push for 2014 guard Phil Booth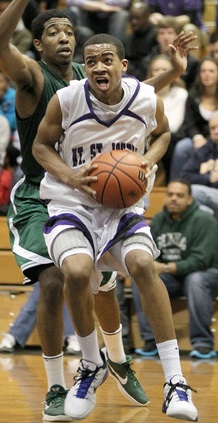 The hiring of assistant coach Kenny Johnson has further ramped up Indiana's aggressive recruiting efforts in the D.C., Baltimore and Virginia area, one of the current hotbeds for high major programs.
One of the latest names to emerge on the Hoosier radar is Phil Booth, a class of 2014 guard who plays at Mount St. Joseph's in Baltimore and with Team Takeover, the AAU program formerly headed up by Johnson.
Indiana scouted Booth at Boo Williams in Hampton, Virginia in late April and started recruiting him heavily shortly after Johnson joined the staff on May 1, according to Booth's father, Phil Sr.
"(Kenny is a) great guy who loves the game," Booth Sr. told Inside the Hall. "We feel very comfortable with him from meeting him a couple of years ago. Kenny has seen Phil play quite a bit. They've got a pretty good relationship. I think Kenny likes the way Phil plays."
Booth helped lead Mount St. Joseph's to the Baltimore Catholic League (BCL) Championship as a sophomore and was named to the BCL All-Conference first team and second team All-Metro by The Baltimore Sun.
Booth Sr., one of the top players in Coppin State history, said his son, who is rated the No. 38 player nationally by ESPN.com, can play both guard spots.
"His biggest assets are that he can shoot it from deep, get to the rack, play above the rim. He's extremely unselfish," Booth Sr said. "And he defends. I think now, with the Internet, a kid scores 20 and everyone goes crazy. But I've seen him have 12 points and be the best player on the court. He kind of has the ability to be a scorer, but also do other things like pass, rebound and at 6-3, that's probably his biggest asset."
Indiana is among the early offers for Booth, who hasn't been on campus, but hopes to make a visit to Bloomington either later this month or in August.
Booth's recent schedule included a trip to the Richmond high school team camp and the Nike Elite 100 in St. Louis. He'll attend the Villanova team camp this weekend.
"My wife and I, we really want to get out there (to Indiana)," Booth Sr. said. "We were supposed to get out there last week, but my schedule didn't permit. So hopefully either in late June or August we can get out there. We look forward to seeing the campus, meeting the academic advisors and seeing how things are socially and diversity (wise) is important. Of course athletics is going to be a big part, but those things are important to us also.
"Coach (Tom) Crean has a great reputation for graduating players and building young men, so that's something that we want to be able to see first hand."
Indiana's success recruiting the area known as the DMV under Crean includes landing current IU guard Maurice Creek and Victor Oladipo, who are both Team Takeover alums.
Stanford Robinson, who committed to the Hoosiers in early May, is also in the Takeover program and is someone Booth is very familiar with.
"He plays against Stan every day with Team Takeover, so he knows what a great player he is," Booth Sr. said. "He's had to defend him and vice versa, so that's always a good matchup for him."
(Photo credit: The Baltimore Sun)
Filed to: Phil Booth