Q & A: Verdell Jones talks pro career, reflects on time at IU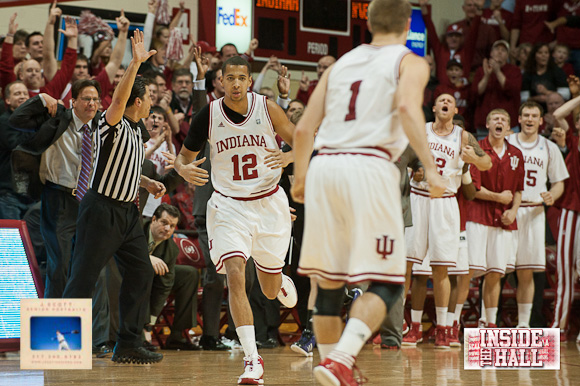 The highly touted 2012 recruiting class is expected to arrive in Bloomington to join a program many have projected to be the nation's best next winter. The five 2012 signees will replace an outgoing group who came to IU at its bottom in the summer of 2008 and helped lead the Hoosiers all the way back to the Sweet 16 in March.
One of the key members of that group was Verdell Jones, a four-year starter who saw his senior season end abruptly in the Big Ten Tournament with an ACL tear in a win over Penn State.
Inside the Hall caught up with the Champaign, Illinois native on Wednesday for an update on his rehab, his plans to pursue a professional career and much more:
On what he's been doing since graduation last month and how things are progressing with rehab:
"I hired an agent. Jared Hodges from WSMG. I was cleared last week to do more on the court stuff. I can do some light cutting now, I can do a lot more basketball stuff, a lot more shooting stuff, ball handling up and down. Nothing too vigorous. I can stairmaster, I can do elliptical, stuff like that. I've been cleared to do weight lifts, so now I'm just doing that almost every day. I'm doing a lot of basketball work with my dad almost every day. I haven't felt pain in a while. The doctor said last week I was a couple weeks ahead of schedule, which is good. I'm going to keep working."
On when he expects to be 100 percent and on his plans to pursue a professional career:
"The doctor said that I would probably be almost 100 percent by late September. As far as working out for teams, working out for overseas or NBA teams, I can probably start doing that in August. I missed a lot of the training camps and different camps that the NBA teams and overseas teams watch, but I hired a great agent and a lot of teams are waiting to see what happens with my knee. Every kid's goal is to play in the NBA, but I have no problem playing overseas."
On leaving Bloomington and getting back home and getting a chance to work out with his father and brother:
"It's mixed feelings. I definitely miss the guys at IU. I loved working out with them. But it feels really good to be back with my dad. I feel like he was the guy who made me the high school player I was and allowed me the opportunity to go to IU. It feels real good. My dad, he knows a lot of my strengths and weaknesses. We've been trying to work on my outside shot, watching games. And my brother (Clayton), he's trying to pursue his dreams, too."
On his time at Indiana and what he and his teammates were able to accomplish in bringing the program back:
"Looking back on it, it was definitely a great experience. It was definitely a great learning experience. Going through those first three years, the hard times, actually really helped build me as a person and as a player. (It taught me) to play through adversity and helped make me mentally stronger. I was very happy to finally experience some success. It showed that hard work does pay off no matter what.
"I think IU is going in the right direction. This team this year will probably be one of the best teams IU has had in a long time with the incoming class and everyone staying from last year's team. I'm very excited, I think they can do things. I'm looking forward to them hanging up (banner) number six."
On how the work they did as a team last offseason translated into success:
"I think it helped a lot. We did some different stuff, but I think the biggest thing was that we did a lot of the stuff on our own. We initiated a lot of it. We held each other more accountable. I think that just came with us being an older team and more mature. That's what took us longer into games. When it was clutch time, we just stepped up and held each other accountable. We were so afraid to let our teammates down that we stepped up, too. I think that's something that was huge last year. I think that a lot of our team is still older this year, so that accountability will still be there this year."
On how closely he'll continue to follow the program:
"I love those guys. They're still my brothers and we still text every other day. I'll definitely keep in close contact and definitely watch a lot of the games when I can. It just depends on what happens to me with basketball. If I'm fortunate enough to stay here (in the United States) and play, I'll try to make some games. But if I do go overseas, they have Internet over there, too. So I'll definitely be watching them over there. Those are my guys and I'm hoping the best for them."
Filed to: Verdell Jones