Crean on scholarship issue: "It's not an easy process"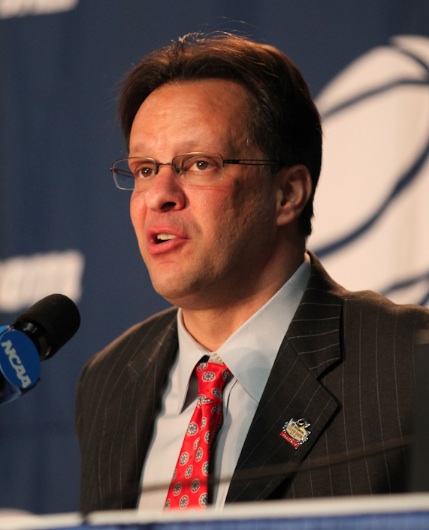 STARLIGHT, Ind. — When the five freshmen in the class of 2012 arrive on campus to begin taking classes in the second summer school session, Indiana will have 14 scholarship players.
The NCAA allows 13 scholarship players, but a Big Ten rule allows conference members to oversign by one player to help plan for early departures or other attrition.
Indiana coach Tom Crean said on Wednesday night at the IU Tailgate Tour at Huber Farms that a lot goes into planning for scholarships on a year-to-year basis.
"We have a lot of things that we have to look over and that we have to pay attention to. It's not an easy process," Crean said. "You go into the season last year and we completely felt like Christian Watford, that would very likely be his last year. And it could have been if he wanted to go to the (NBA) Draft. But he wanted to do more than go to the draft. He wants to be a first round pick, which is what he should be. You have to balance that a little bit when those decisions were made.
"We've had the injury to Maurice (Creek). There's a lot of things that hang in there and we're working through all of that."
Creek, who missed the entire 2011-2012 season after suffering his third major injury in 22 months, continues on what Crean called a "long and tedious" road to recovery, but isn't behind schedule.
Crean acknowledged that Creek's status is a part of the equation when looking at scholarships for next season.
"There's a lot of different factors that go into those things. Roster management, it's here to stay. It is. There's a lot of things that aren't the way they were five to ten years ago in the world and college basketball is the same way. There's a lot of uncertainty and you just have to deal with it.
"You always have to have a plan. Then you have to be able to work that plan, fix the plan, tweak the plan, whatever you need to do inside of it and at the same time, you're trying to make everybody better, every day. There's not one person who works with us, for us or works at Indiana that is not trying to make the program better that has a direct hand in it, every day. And that's what we're most focused on. The things are going to work out."
Each member of IU's highly regarded 2012 recruiting class is expected to arrive on campus in the next week.
Hanner Perea and Peter Jurkin are already in Bloomington while Jeremy Hollowell, Ron Patterson and Yogi Ferrell all said earlier this week they plan to go following the completion of the Indiana-Kentucky All-Star series.
"I would imagine that they would. That's the plan right now," Crean said when asked if the freshmen would all get started next week. "We're waiting for final transcripts to come through. Things have to go through the (NCAA) Clearinghouse. The Clearinghouse is working on football right now. So those things always go through it. But as far as where everybody's at, there's no surprises with anything that we've seen."
Filed to: Tom Crean