Elite 2015 big man Trevor Manuel hearing from IU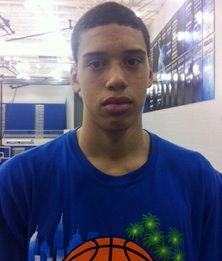 The list of suitors for 2015 Sexton (MI) forward Trevor Manuel is still growing.
Manuel, a 6-foot-9, 210-pound forward, already has early offers from Eastern Michigan and Michigan State.
His stellar play this spring led to ESPN.com recently listing him as the No. 24 overall prospect in his class.
The talented rising sophomore played alongside Michigan State signee Denzel Valentine last winter and won a Class B state championship at Sexton.
Manuel's frame coupled with his athleticism, ability to run the floor and wingspan have drawn the attention of Indiana, who scouted him at the Nike Spring Showdown this spring in Merrillville, and most of the Big Ten.
He's already taken unofficial visits to Indiana, Michigan and Michigan State.
The visit to Bloomington last fall left a favorable impression on Manuel, who said he's also received several letters from the IU staff.
"It was a good visit," Manuel said earlier this month at the Bill Hensley Memorial Run-N-Slam in Fort Wayne. "Nice campus, nice people around. Good environment."
Besides the Big Ten interest and early offers, Manuel says he is also hearing from several MAC schools and recent reports indicate that Louisville and Kentucky are also beginning to show interest.
For now, Manuel is focused on the remainder of the AAU season with his Meanstreets teammates and getting stronger finishing around the basket.
"I've been doing really good getting to the basket, working on my burst and stuff," he said.
Filed to: Trevor Manuel