Jordan Green has one offer, looking for more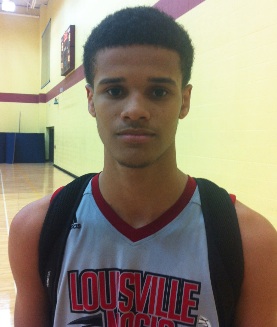 2014 Lexington Henry Clay (KY) and Louisville Magic forward Jordan Green already has a scholarship offer from Indiana's second round NCAA Tournament opponent New Mexico State.
But he's not satisfied.
The 6-foot-5, 185-pound wing, a visitor to Bloomington last fall for the IU-Virginia football game, is looking to pick up more offers with his play this spring and summer.
"It (the offer from New Mexico State) made me want to work every harder to get even more," Green told Inside the Hall. "I'm just trying to improve as an all-around player, get stronger and work on my ball handling a lot more."
Besides the offer from the Aggies and the interest from IU, Green is also hearing from Alabama, Cincinnati, Louisville, South Carolina and Xavier.
His trip to Bloomington last fall included the opportunity to play in pickup games with several IU players, time with the coaching staff and a tour of the facilities, including Assembly Hall and Cook Hall. All of those experiences left a favorable impression on Green.
"I love all the facilities and I like the coaching staff a lot," he said. "The whole coaching staff is real personable. They're really cool to talk to."
Green and his high school and AAU teammate Trey Grundy, who has also drawn interest from several high major programs, are looking to turn things around next season at Henry Clay. The Blue Devils reeled off 13 straight wins from Jan. 10 to Feb. 11 before dropping three straight games to end the season.
"We didn't play as well as we should have the last few games," Green said." I just think it was because of the style we were trying to play. We've gotta switch the style up this year."
Filed to: Jordan Green