Crossroads Classic extended through 2014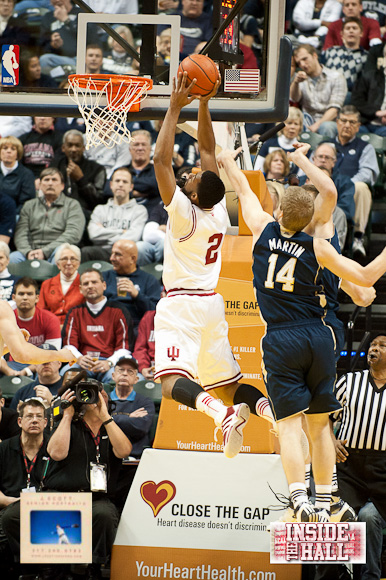 The Crossroads Classic, a four-team event billed as a replacement of the old Hoosier Classic and played for the first time last December at Bankers Life Fieldhouse, has been extended through 2014. Butler, Indiana, Notre Dame and Purdue will each continue as participants.
Here's the release that was issued this afternoon:
INDIANAPOLIS – After a highly successful debut in 2011, the directors of athletics at Butler, Indiana, Notre Dame and Purdue have agreed to a two-year extension of the Crossroads Classic that will keep one of college basketball's premier non-conference events in Indianapolis in 2013 and 2014.

Barry Collier of Butler, Fred Glass of Indiana, Jack Swarbrick of Notre Dame and Morgan Burke of Purdue each signed an addendum to the original Crossroads Classic contract. Bankers Life Fieldhouse will remain as host for the full term of the agreement.

"We are so proud to partner with four outstanding Indiana institutions and build on the success of the inaugural Crossroads Classic," Rick Fuson, Chief Operating Officer of Pacers Sports & Entertainment, said. "We are excited that the extension will continue this great tradition in Bankers Life Fieldhouse."

In addition to the originally-scheduled date of Dec. 15, 2012, the Crossroads Classic will now also be held on Dec. 14, 2013, and Dec. 20, 2014. Game times and ticket information will be announced at a later date.

A sellout crowd of more than 19,000 fans witnessed the inaugural Crossroads Classic last December, as Butler and Indiana were victorious at Bankers Life Fieldhouse. Both games were also televised nationally, with CBS broadcasting the Butler-Purdue matchup and ESPN2 airing the Indiana-Notre Dame contest.

Opponents will rotate in 2012, with Butler taking on Indiana and Notre Dame squaring off with Purdue. Indiana will serve as the host school for the second-annual Crossroads Classic.

The coming together of the four most-storied college basketball programs in the state of Indiana, the Crossroads Classic is a nod to the Hoosier Classic of years past, when the schools played a doubleheader non-conference showcase at Butler's Hinkle Fieldhouse.
Comments from the four schools' directors of athletics

"Butler University is proud to be a part of this premier and unique event. The competition will continue to showcase our four institutions and their teams in an electric atmosphere in a great venue. Indianapolis is the perfect location for these elite college basketball match-ups!"

Barry Collier, Butler Athletic Director

"I think very early on you could see the excitement building about having these four programs together at one venue. I think it has quickly become a showcase event for college basketball fans in the state of Indiana."

Fred Glass, Indiana Vice President and Director of Athletics

"College fans were treated to a great day of basketball last year, and I am thrilled that all four schools have agreed to extend the contract for two more years. Indianapolis and Bankers Life Fieldhouse proved to be ideal hosts and we are fortunate to be able to partner with them once again. Notre Dame looks forward to building this into not only one of the premier college basketball events in the country, but also into a platform for broader collaboration among four great universities."

Jack Swarbrick, Notre Dame Vice President/Director of Athletics

"Purdue is pleased to extend this event two additional years in partnership with Butler, Indiana and Notre Dame. The inaugural year highlighted spirited competition, as well as large and lively crowds. We hope the Crossroads Classic will be a holiday tradition in Indianapolis for many years to come."

Morgan Burke, Purdue Director of Intercollegiate Athletics
Filed to: Crossroads Classic